While driving late at night, a person spotted a Tupperware bin on the side of the road; its lid sealed closed. Stopping to investigate, the unknown savior discovered a horrible sight inside the bin. A mother cat and four young kittens trapped inside and unconscious. With the container lid snapped in place, the cats were without air and overheated.
The rescuer resuscitated the little family, and through a series of frantic phone calls, the cat and her kittens were delivered to the care of the Dan Cosgrove Animal Shelter. Staff rushed the felines to Pieper Veterinary Emergency in Middletown, CT, where they were placed in critical care.
Examination revealed the mom had gone blind due to lack of oxygen. All of the week-old kittens had puncture wounds in their necks, Dan Cosgrove Animal Shelter Director Laura Burban reporting, "The mom was desperately trying to get the babies out of the container and probably trying to grab them frantically and claw her way out. So it looked as though maybe she had grabbed them fiercely trying to help save their lives."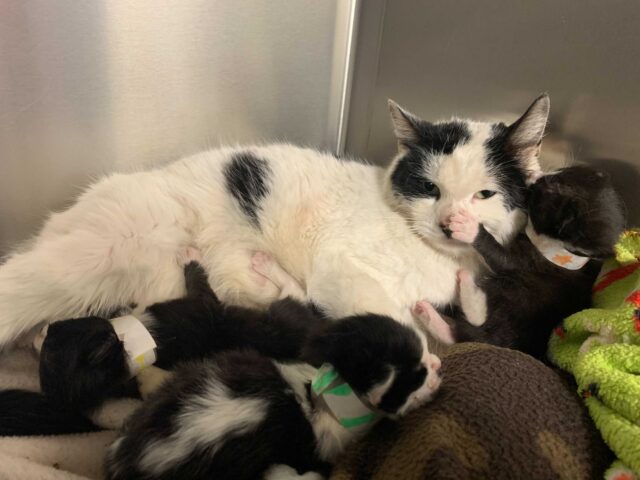 Their mother fought for them until her suffocating body could take no more. And despite her best efforts and those of the vet staff, one of the kittens passed away, the cruel ordeal of being locked away to die too much for its tiny body.
Kindness Overcomes Cruelty and Ignorance
Though one of the kittens was lost, the others pulled through, and their mother regained her vision. On Facebook, the shelter shared the rock-solid names chosen for the feline family. Mom earned the name Stevie Nicks, and her three boys were dubbed Van Halen, Aerosmith. and Metallica.
"These rock stars have been through quite the ordeal and survived!"
Foster mom Karyn Putney has furthered their recovery, keeping watch over the family. She's tracking kitten growth and helping Stevie with anything she needs. Everyone is certainly in better condition, but kitten Aerosmith has required supplements to help him along.
Karyn shared, "They are all doing awesome. I'm really optimistic that we're definitely on the right path with them, and they're really improving."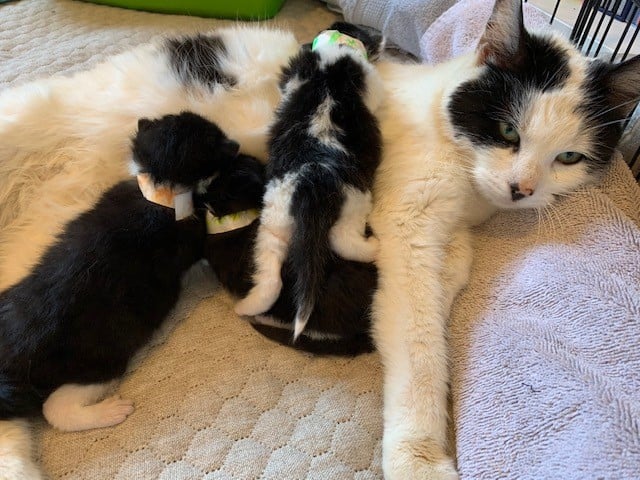 Ask For Help
Whether Stevie and her kittens were locked in the container out of cruelty or because someone didn't know what to do doesn't change the outcome. A family of cats suffered a terrifying ordeal, and a kitten was lost. The Dan Cosgrove Animal Shelter encourages those faced with an animal situation out of their control to contact local animal shelters and rescues for help in finding a safe place to surrender the animal.
"Even if we can't take the animals in because we're full, we're happy to at least help them with what to do," Laura explained.
A police report has not been filed as the location where Stevie and her kittens were found remains unknown. Because of Stevie's rather unique markings, authorities and rescue staff hope someone recognizes her and comes forward.
Whether info comes or not, Stevie and her kittens now have a future ahead of them thanks to kind hearts dedicated to the rescue of cats.
H/T: www.fox61.com
Feature Image: Dan Cosgrove Animal Shelter/Facebook