Ettore the cat was ready for adventure when he set out for a flight to Italy with dad Salvatore Fazio. But the adventure he bargained for turned into a scary three weeks of being lost at New York City's John F. Kennedy International Airport. The vacation-turned-nightmare finally came to an end after a well-known cat rescuer and his team of volunteers worked their magic.
Salvatore found out when he landed in Italy that Etorre never made it there. Somehow, he had escaped his carrier as the airline baggage handlers were loading him into the plane at JFK. He was still in New York, lost somewhere at the airport.
Stuck in Italy, Salvatore could do nothing. But after his friend, Toni Ann, reached out to John Debacker of Long Island Cat Kitten Solution, work to find the lost cat commenced.
Tracking a Lost Cat at JFK
John and his fellow rescuers hung up fliers at the airport, alerting travelers regarding the missing Ettore. They heard nothing, and two weeks passed. But as John told WCBS 880, a clue to Ettore's whereabouts surfaced "when one of the Port Authority employees on routine patrol found Ettore's collar at the end of the runway near the water."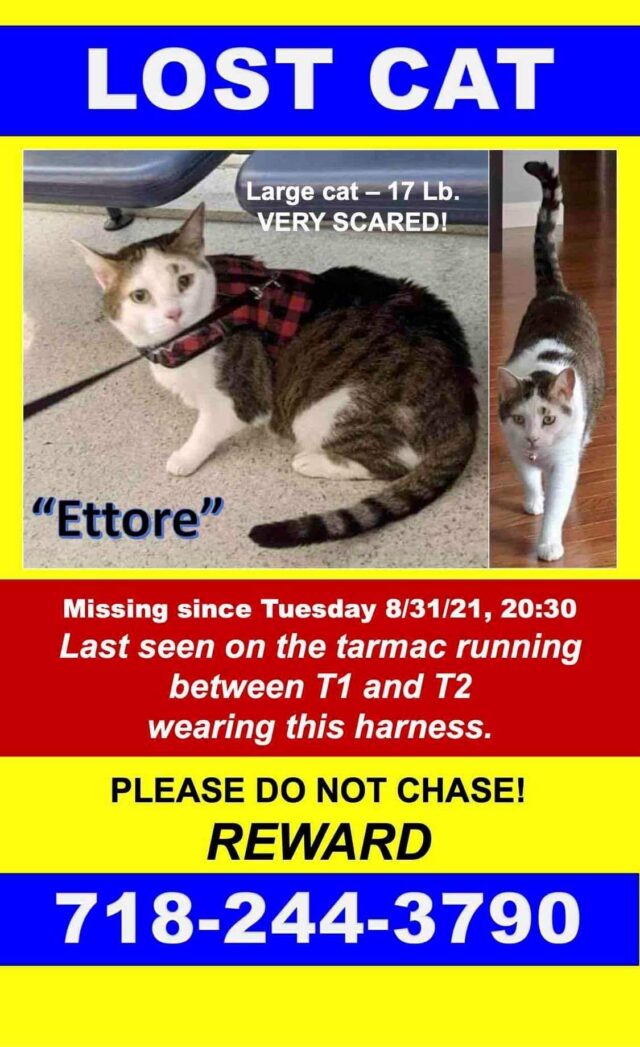 After the collar was found, the Port Authority gave John permission to set up a motion-sensor camera near the area Ettore had gone missing, and the collar had been located. Just ten hours after John set it up, the camera caught footage of Ettore. John then set up a humane trap and soon had the lost cat caught.
Eighteen days after going missing, Ettore was safe.
For his ordeal, Ettore was remarkably okay. He dropped from 17 to 14 pounds and suffered from bruises and scrapes to the nose. The housecat life made this experience hard for Ettore, but those few extra pudgy pounds from being a spoiled kitty might have helped him survive. However, he made it through. His family and friends were excited and relieved he'd been found.
With Salvatore in Italy, Toni Ann happily retrieved Ettore, sharing on Facebook, "Ettore is so grateful to be rescued!!"
Going Home
Happy as he could be, Ettore lavished her with purrs before quickly falling asleep on the ride home.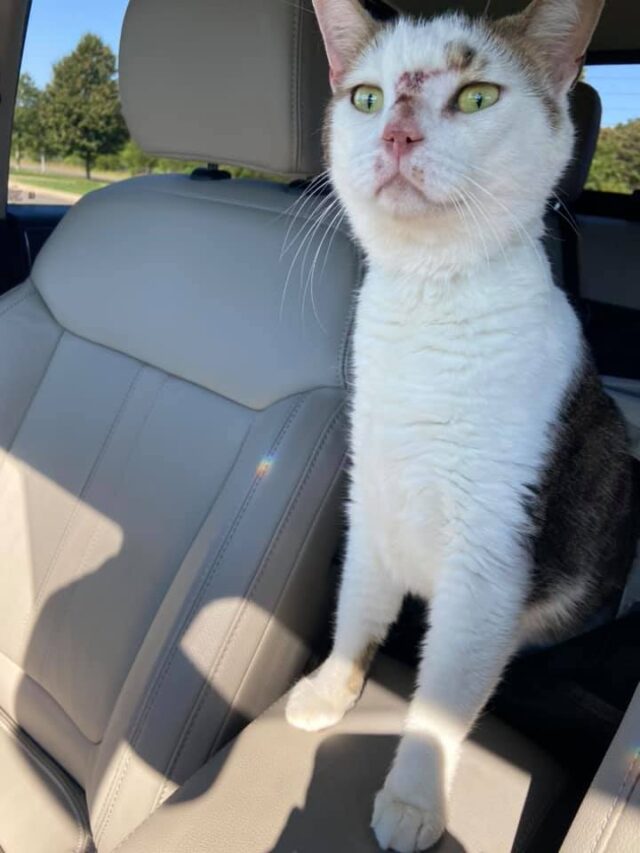 "What a sweet gentle little LOVEBUG he is," said Toni Anne. "He's a pleasure to be around."
Ettore has now been returned to his Mastic Beach home in New York. He's going to stay with Salvatore's roommate among the familiar sights and smells until he can be with his dad again. Taking to Facebook with his "heart full of joy" after Ettore's return, Salvatore expressed his gratitude to everyone involved.
If you've worried about what to do if your sweet one goes missing, check out these
10 Steps To Follow If Your Cat Goes Missing
and be prepared for something that hopefully never happens.
H/T: www.newsday.com
Feature Image: John Debacker/Facebook