On a scale of 'chonky boi' to 'oh, lawd he comin,' Keith the Cow Cat could be most certainly classified as a 'megachonker.' But being chubby doesn't stand in this cute fellow's way.
Keith is a happy cat on a veterinary diet who loves his family even if his mom had to put locks on the refrigerator and cabinets in his Bristol, England home.
Keith's mom, Sara Matthews, didn't have a choice. This wily boy loves food so much and has an intellect as wide as his waist.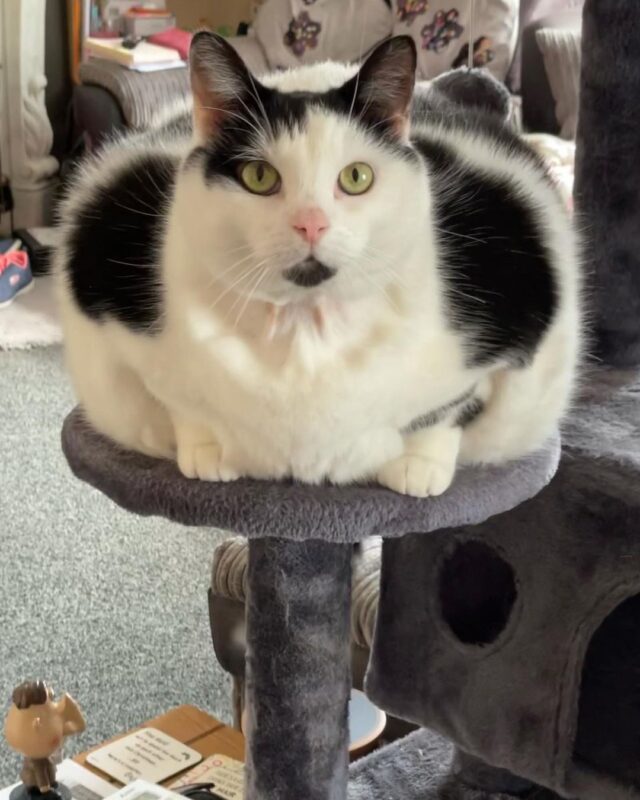 Too Smart and Too Cute
When it comes to the fridge, anytime the door was opened, Sara explained Keith would "clamber in," leaving her with the worry he would get trapped inside. As for the cabinets, she tried placing a heavy bag of litter in front, but Keith simply used his weight to shove the bag out of the way. So, Sara installed child locks on the cabinets, in addition to the ones she already had on the fridge. Did that stop this tubby kitty from getting in? Nope.
As Sara told The Scottish Sun, the family has added multiple locks to all the cabinets with food because "It doesn't matter whether it's a circular knob handle or a pulley, he will find a way in."
"I've now had to put all of his rations in plastic tubs with click down lids. We've tried puzzle feeders to slow him down but he's just tipped them over."
This boy is food-obsessed! So, what's this hungry cat's deal?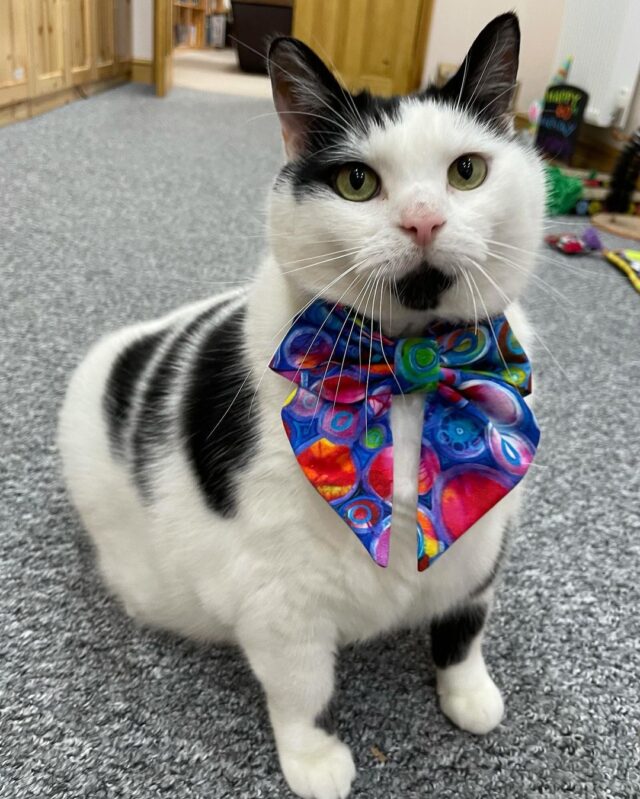 The Story of Keith
Believe it or not, Keith was malnourished at the time of his rescue and needed a special diet to combat stomach problems. But with help getting his tummy right came a voracious appetite that led him to good weight gain and stealing other felines' vittles. When Sara adopted Keith as a 10th birthday gift for daughter Charlie, she knew he came with stomach issues, but she didn't realize he'd be serving her a mystery too.
She explained, "He would eat anything, even weird things like vegetables and pizza crusts by going through our bins and neighbours' rubbish."
In spite of her steps to curb his eating, as well as trying every veterinary test that could be thought of, Keith has grown from 11lbs. to 24lbs. in the past seven years. Sara has spent more than £2000, or roughly $2,700, trying to figure out what makes this boy so hungry!
Medical Mystery
As a kitten, Keith was on medications for problems with his eyes and ears. For a while, Sara was having special food made for him as he also suffered from urinary problems, sharing, "The usual food for that is so high in calories I couldn't risk him eating it."
The special food was roughly a hundred bucks a bag, and Keith ate this mix for three years. Just last year alone, Sara said, "We paid £2,500 (US$3459.96) for blood tests for Cushing's disease, diabetes, and more, but they all came back negative."
They've explored option after option, and Sarah said she used to cry when she'd see his weight climb on the scales at the vet's office, but as a vet nutritionist told her, they had done everything they could. Because of his family's careful monitoring, Keith is a healthy cat with no medical issues due to his obesity. However, they still worry about potential problems down the road.
Put simply, Keith's struggle with weight and health issues keeps his family on their toes, but that's just what one does for the furry family they love so much!
"He's a really happy cat though. I don't think he sees his weight as an issue. He pretty much lives a normal cat life. Keith is a lot more energetic than my other two cats."
Fashion Forward Feline Living His Best Life Online
As a handsome tuxedo cat, Keith feels it's important to look his best, and he quite enjoys wearing bowties. His collection is extensive, and his poses flawless. It's no wonder he's become a sensation on Instagram!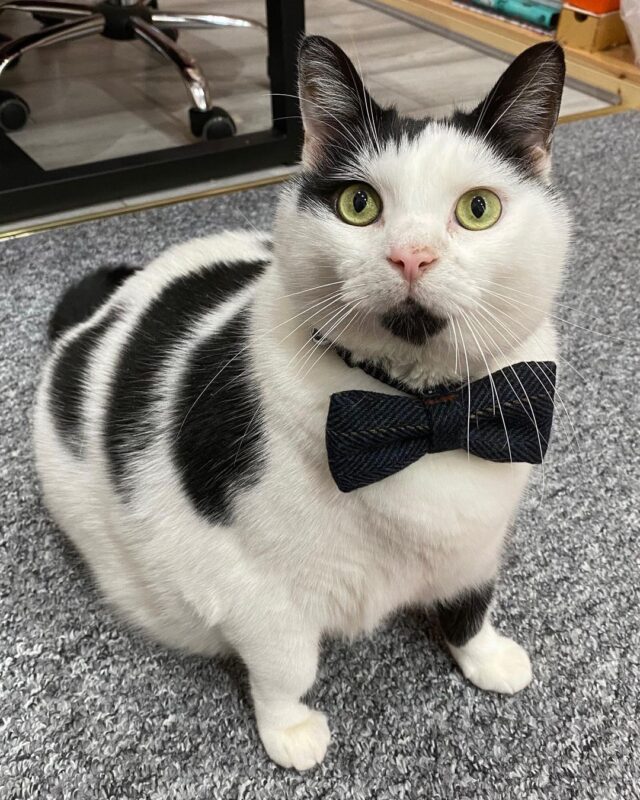 Be sure you follow Keith the Cow Cat on Instagram and TikTok to watch him workout and play hard…
Enjoy time with family…
Look all-around adorable…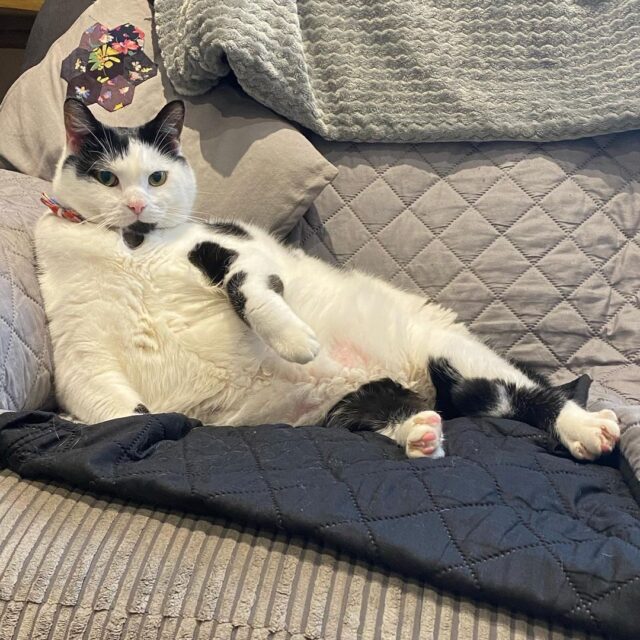 And, of course, there are always jokes about his weight and his resemblance to a cow! But it's all in good fun because what do you have if you don't have humor?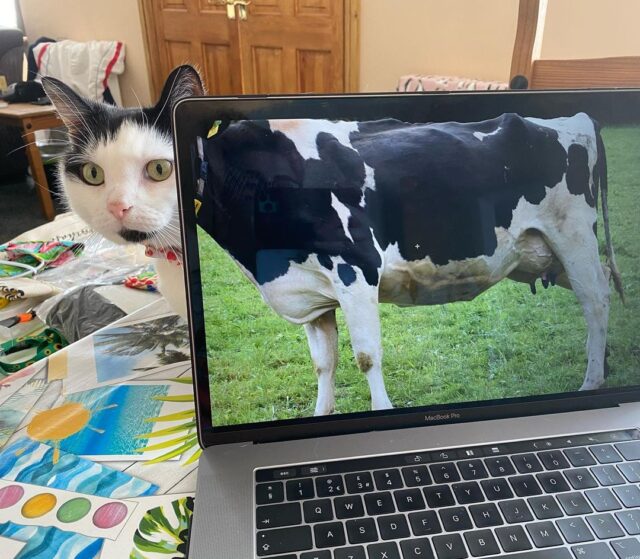 Oh, Keith, you're such a good sport!
H/T: www.9gag.com
Feature Image: @keiththecowcat/Instagram