Part of each sale through the iHeartCats store is donated to Greater Good, which helps support various charities like Rescue Bank. Thanks to customers like you, happy endings, like the one below, are made possible. 
Faerie Tales Cat Rescue trapped Cookie as a feral kitten. Her un-spayed mom had been thrown out of a house when a dog was adopted and they didn't get along. Cookie and her siblings were born outside and were seen looking for food in the evenings. To make matters worse, a car on the street hit one of the siblings before they could all be rescued.
"Faerie Tales then worked with a neighbor and they were able to trap two tame adults and eight feral kittens. All of the cats were undernourished, underweight and infested with parasites. They used Rescue Bank food to assist in the trapping and of course, the fostering of this group!"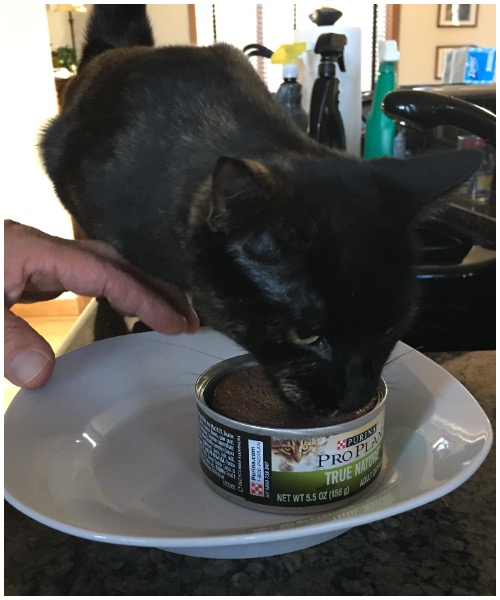 "Thanks to the food and support of the GreaterGood.org's Rescue Bank, we helped these cats/kittens regain their health through good nutrition and veterinary care. They all have recovered, and as of today, all are in forever homes! Safe, fed and off the streets!" – Faerie Tales Cat Rescue
Cookie (pictured) could not wait for her food on her meal plan. When it was time to eat, she would leap onto the counters to get her face into the can! She definitely gives the food 4 paws up! Her foster home adopted her and continues to treat her to her favorite food.
"Thank you Rescue Bank! Your support helps us take cats off the streets and find homes!" – Faerie Tales Cat Rescue
Faerie Tales Cat Rescue is just one of the many groups that benefit from Rescue Bank. Every time you make a purchase from the iHeartCats shop, you're helping other cats in need, like Cookie, by providing them with healthy meals!