Chai spent the first year of her life as a stray cat, wandering the outdoors with no home to call her own. But after being picked up by a rescue, Chai found her forever home with pawrents Sam and Kira Mandon-Jones. That was four years ago now. And in those years, Chai has made friends with much of the neighborhood as the lure of outdoor adventuring still calls to her. But she always comes home to her family.
Lately, though, Chai has been bringing things home with her. Not a random assortment of items, but just one very purrticular thing. Chai has an odd fascination with work gloves. And her glove love is no passing fancy. She possesses such a love for work gloves, the silly cat has carried home more than 30 pairs in the last month!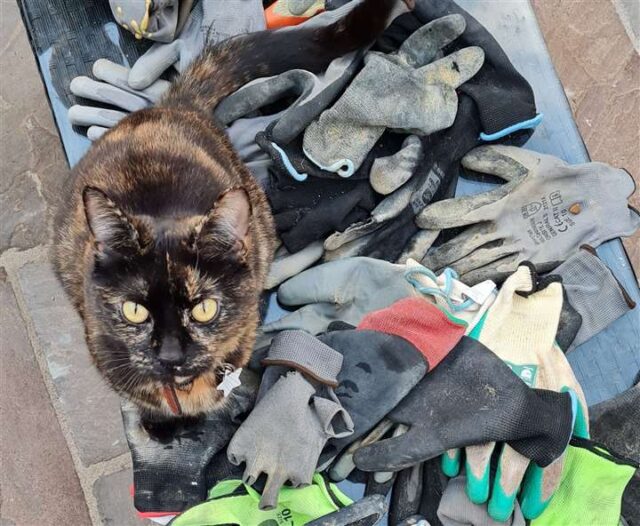 Putting Out the Word
If you love cats, and we know you do, you know kitties love to bring us presents. Usually, it's a mangled lizard or bird, but Chai's gifts could actually be pretty useful if they weren't stolen goods!
The gifted gloves started arriving about a month ago, Kira telling Kent Online, "All of a sudden single gloves starting arriving on our patio."
"We've never seen her actually carrying one in her mouth," said Kira. "But she always meows loudly to let us know she is back with one, and there's no other way they could get there."
Kira speculates the gloves are coming from all the construction work going on in their Aylesham, England neighborhood, explaining, "We can only think she is finding them discarded on sites because they all look pretty worn."
But with so many pairs of gloves, Kira decided she should post about her cat's mischief on a local Facebook page with the hopes of returning them to their rightful owners!
Could Jealousy Drive a Cat to Thievery?
Around the same time the gloves started appearing, Chai's family adopted a dog. Dad Sam thinks it just might be sibling rivalry driving his cat to theft.
"It started happening about the same time and it's the only reason we can think of," said Sam.
But this sweet tortie cat shouldn't worry about a new sibling. Judging by Chai's random appearances on that same local Facebook page, she's got plenty of friends. No wonder she enjoys a good wander!
"She's certainly not a house cat and much prefers to be out most of the day," shared Kira.
And lately, most of her days are given to gloves stealing, but Chai isn't the one cat who likes to bring home contraband. Meet Jordan, a master cat burglar with 80 stolen shoes under his paw!
H/T: www.kentonline.co.uk
Feature Image: Kent Online