Portland, Oregon has become quite the tourist destination for food, culture, and of course, the beautiful outdoors that provides splendid hiking and biking opportunities year-round, as well as winter sports on the nearby Mt. Hood. If you've been wanting to visit but were not sure about bringing your kitty along for the ride, the new Pounce, Play and Stay cat hotel, located at 2800 NE Martin Luther King Blvd., will make the decision easy.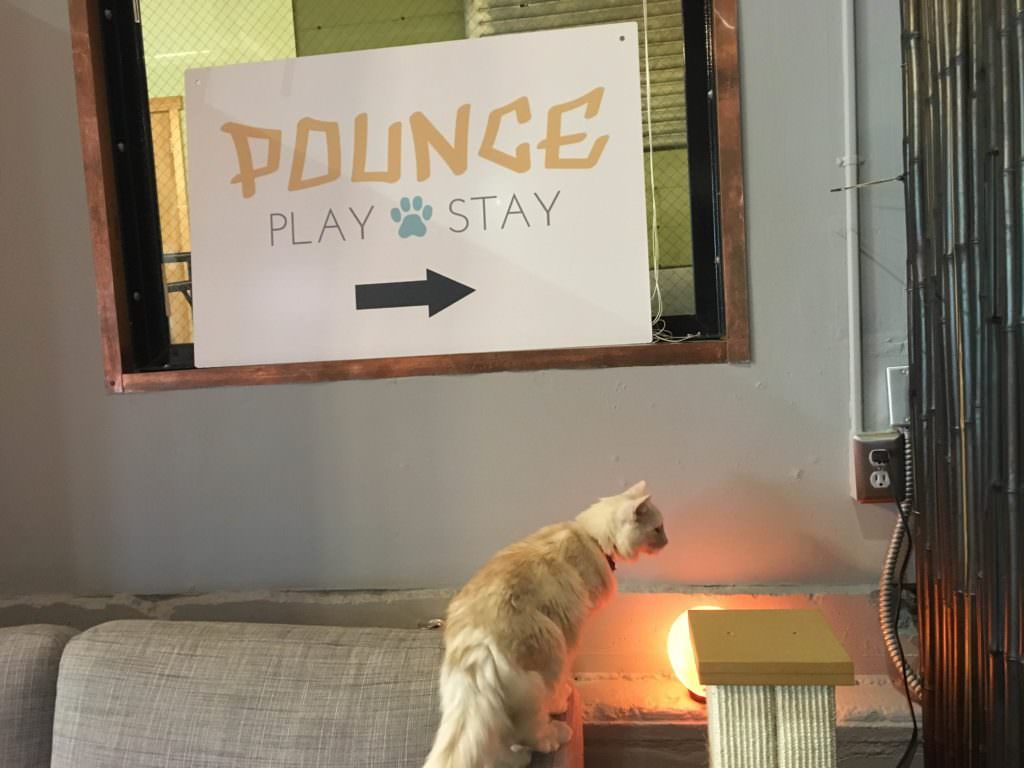 In short, it's unlike any cat boarding facility you have ever seen before. The owners, Ginger Matyas and Lisa Hernandez had an in-home pet sitting and dog walking business in the Portland area for decades when they decided to join forces to create Pounce, Play and Stay.
"I've been a Portland pet sitter for 30 years and a cat hotel seemed like the natural evolution of my own life's work," Ginger Matyas, co-owner of Pounce told iHeartCats. "It can be difficult to put into words just how deep the love of a cat can go…They have rich, emotional lives that we need to respect and understand if they are to thrive in a boarding-type environment."
While traditional kennels include small, metal cages, crammed together in an often loud and stressful environment, you won't find any of this at Pounce. Unlike many boarding facilities, Pounce was created with the emotional and psychological needs of each cat in mind.
"We have experience interpreting their body language, quirks and understand the need to keep their environment interesting," said Matyas.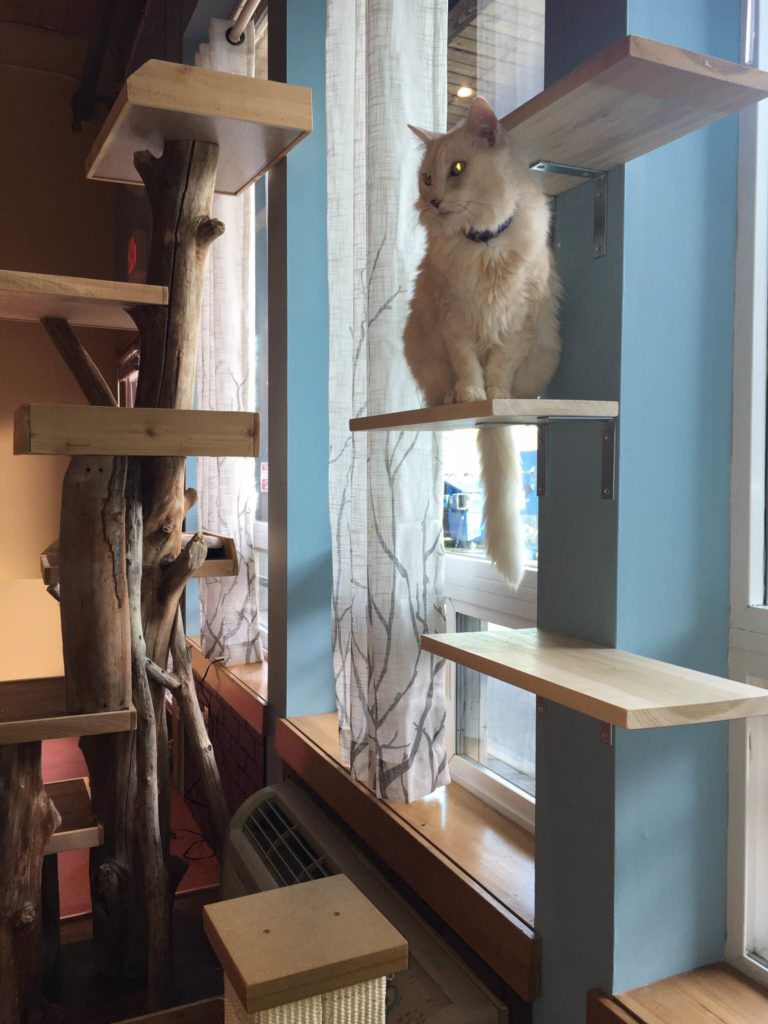 They sought guidance from veterinarian Laura Cochrane (aka "Dr. Kind Klaws"), a pet psychic, and several cat adoption/care professionals.
The end result was custom, multi-level suites with glass doors, proper ventilation, anti-static mats, and cushy bedding.
"We always encourage pet parents to bring [their cats] in with a familiar smell, like mom's t-shirt or a favorite blanket or toy," Matyas added. "Our kitty guests can relax in our custom-built enclosures or explore our 1,000 square feet of 'dedicated catified' space, where they can rest, run, stretch, play, scratch, and climb!"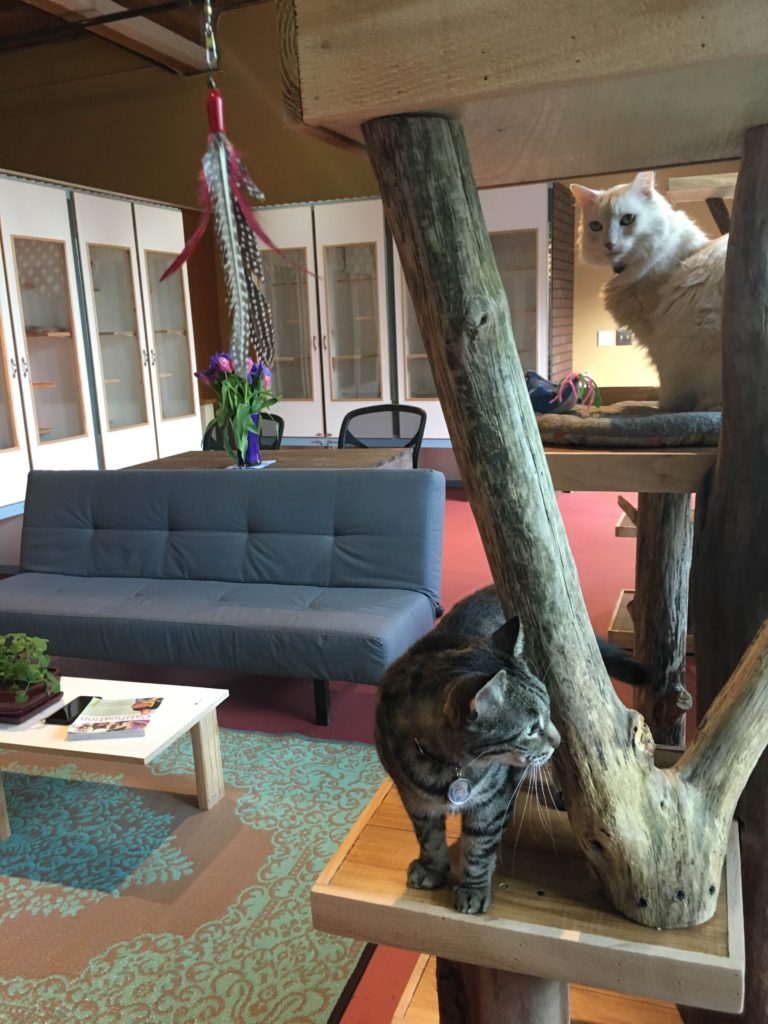 Stress-free is key
At Pounce, they understand that cats have keen senses and are therefore sensitive to their environment and of course, leaving home is stressful by itself. To help combat this, they offer several amenities aimed at destressing their kitty guests:
Play scientifically-composed music for cats
Stream videos designed especially for a cat's enjoyment
Heated beds for senior guests
Custom scratching structures and toys
Feliway Diffusers are plugged in throughout the space
Check out their quick virtual tour with Jeffrey the 3-legged cat:
All stays include a rotating schedule of playtime, brushing, massages and snuggles. Overnight stays are $30 and day boarding is $20.  Have a kitty that needs medications? Most medication administrations are a complimentary service. They also provide additional services such as subcutaneous fluids and glucose monitoring for affordable rates.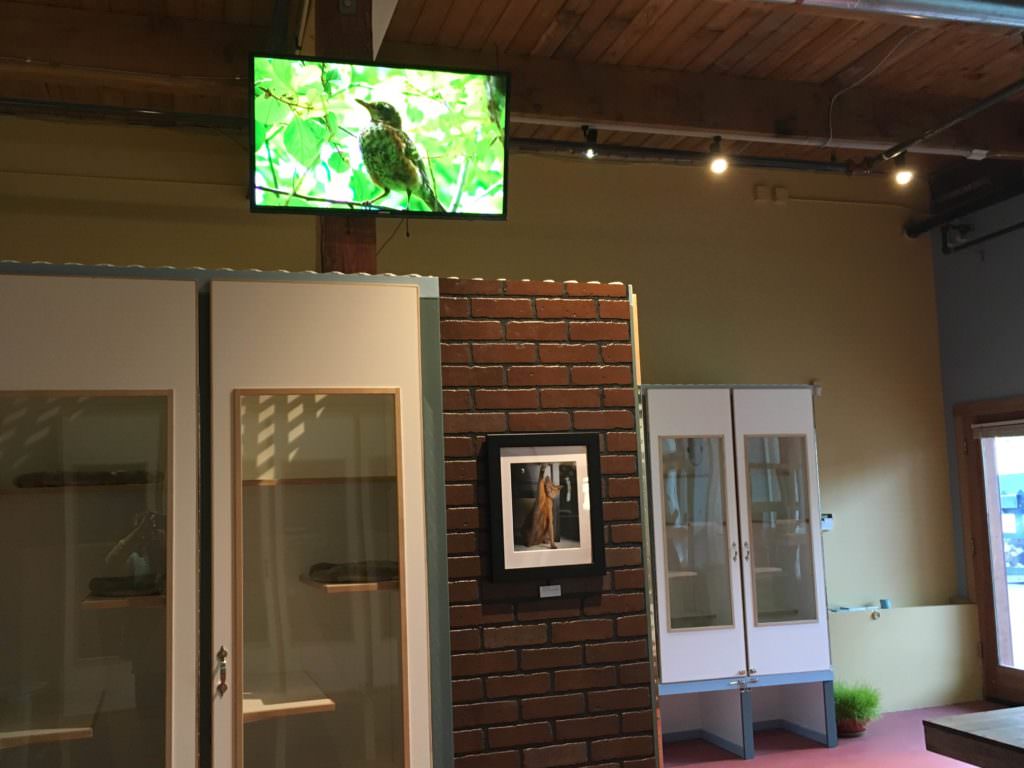 Pounce, Play and Stay joins Portland's ever growing cat-hospitality industry, including Purringtons Cat Lounge, located on the same street.  So while you take in all those sites, you can be sure your best feline friend is being well looked after.