In this time of saying what you want on the internet, some people obviously missed a fundamental life lesson. If you can't say something nice, then don't say anything at all. And these trolls, as they've come to be called, are out of control, slinging written venom like arrows to hurt people and animals that are just trying to live a happy life.
Lately, chubby cat Liznya and her family have been the victims of trolls who've slung false abuse allegations. Knowing nothing about the Russian kitty, strangers have said Liznya is overfed on purpose for attention. Some of the more extreme comments and messages have included threats against her family. But Liznya and her family are here to set the record straight.
Tired of The Cruel Comments
Liznya is trying to lose weight, but anyone who's ever had a chonky cat knows it's a hard road to feline weight loss. And for all her and her family's work to stop her weight from climbing and shed the pounds, they get a lot of cruel comments thrown their way.
As her family shared on Instagram, "Some people blame us, but we don't feed our cat Liznya too much, she has problems with her health. She is on a diet and visits a veterinary clinic."
How The Weight Gain Started
Liznya's problems with weight started when she was pregnant. Family member and human brother, Vlad, tells Metro UK, "before giving birth, she had already become quite big, so it was difficult for her to give birth."
"She was pregnant with six kittens. It was awful, because Liznya and her babies almost died that day. But thanks to vets, Liznya and three kittens survived."
After the kittens were born, Vlad explained the weight started piling on Liznya's tabby frame, and "from that moment on, our regular visits to clinics began."
Working To Find The Answer
With veterinary guidance, the family has explored the reasons behind seven-year-old Liznya's extreme weight gain. As of now, they're looking into hormonal and thyroid issues. And with her current diet plan, Liznya's weight has stopped climbing. While she hasn't lost any pounds yet, she's still trying!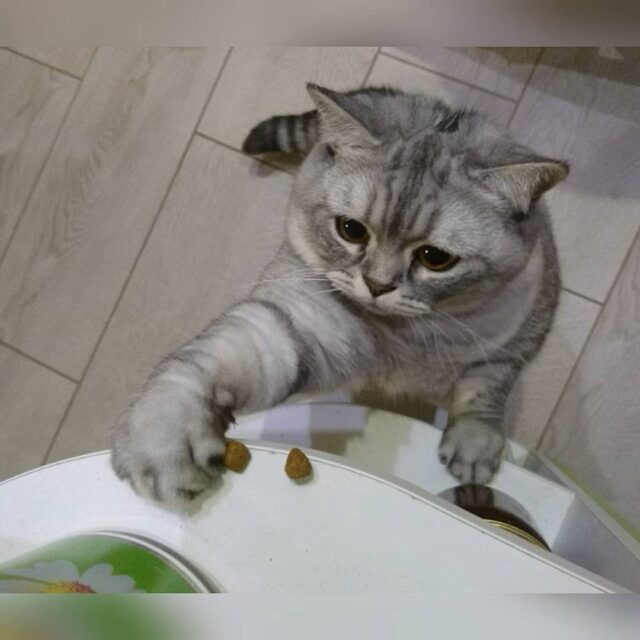 Liznya doesn't adhere to a strict exercise plan, but Vlad said, "Despite her weight, she likes to be active like other cats, and we play with her – she loves to hunt a laser… or our legs when we pass by."
This fat cat is also a happy one!
"She is a very calm cat, but loves to purr when someone is near her,' shared Vlad. "When she loves someone, she licks them – that's how her name came about, Liznya is very close to the word 'lick' in Russian, although her official name is Charlize."
"Fun fact, in Russian 'Char' means 'ball' and 'lize' means 'lick' – so she looks like a ball and loves to lick people."
People Always Have Something to Say
Without knowing Liznya's story, people have left cruel comments accusing her family of overfeeding her on purpose for attention.
To that, Vlad said, "I would like to say to all people criticising me and my cat that it's none of their business. Without knowing the whole situation, they write only angry comments."
Vlad also explained they've also received "nasty messages," in which "people want us to get arrested or even die."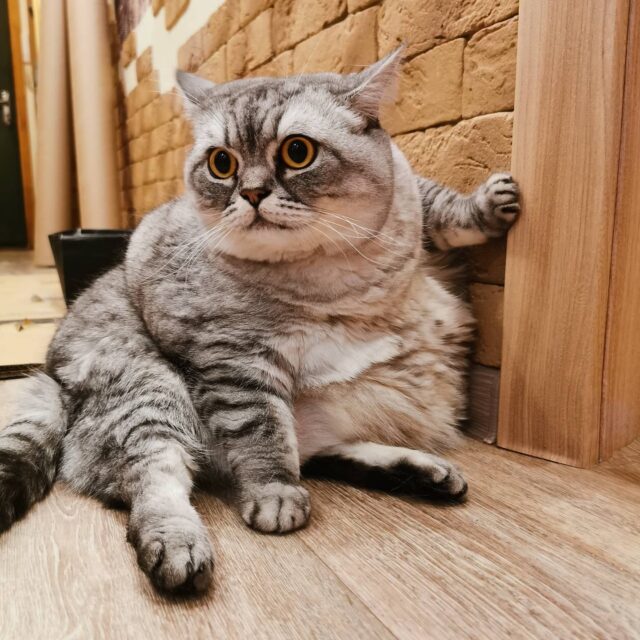 "But there are always two sides to everything. Some wish us all the worst while others show their love and even argue with haters."
And for all those that love and support Liznya, they can expect more pictures and videos of the chubby cutie enjoying life!
Vlad wants everyone to know the family also welcomes advice to help Liznya, giving "many thanks to those who give it." But to the trolls, he asked, "What's the point in reading how 'cruel' we are and how we 'do everything wrong?'"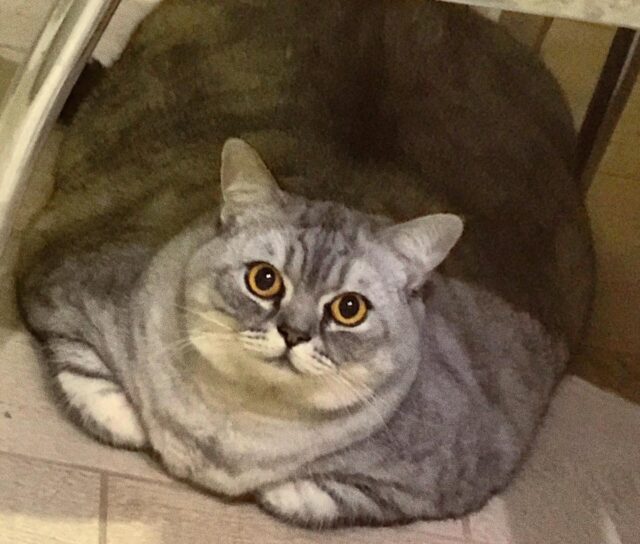 "Although maybe we are not perfect owners, we always do our best."
And Liznya is all the better for their efforts! Behind every happy cat is a family who loves and supports them!
H/T: www.express.co.uk
Feature Image: @fedupcat/Instagram