A kitten born in Shenyang, northeastern China's Liaoning province, is quite literally "one-in-a-million".  Akamaru is a true Janus cat with two faces made up of three eyes, two noses and two mouths.
The litter of British Black Tipped kittens were born on Groundhog's Day to a healthy mother. None of the other four kittens show any signs of abnormalities.
Xiao Wei, Akamaru's owner, has been syringe-feeding her every three hours, although he says she is able to nurse successfully from her mother using one of her mouths.
The second mouth has a semi-functional tongue, but cannot eat or vocalize. Akamaru also appears to be blind in her middle eye, as it does not respond to light.
Xiao released the following live steam of the exceptional kitten.
Two-faced kittens are described as "Janus cats" after the Roman god, Janus who is usually portrayed with two faces. Sadly, they often tend to suffer from additional health issues like brain function problems and difficulty breathing and eating.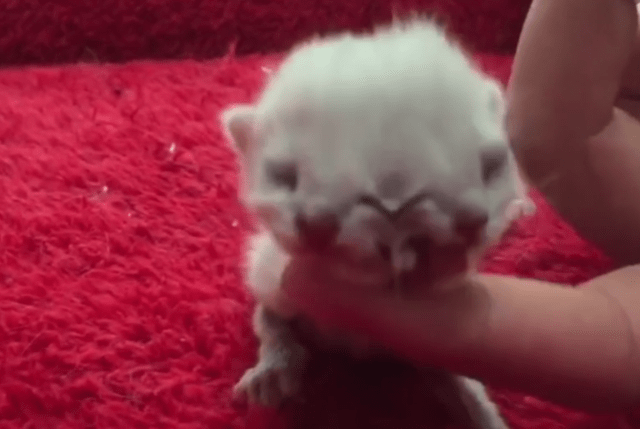 Their lifespans are often shortened, although the expectancy varies on a case-by-case basis. Mother cats sometimes abandon or kill Janus kittens, but so far Akamaru has been lovingly accepted by her mama and littermates. With the additional care from Xiao, she will hopefully enjoy a long and full life.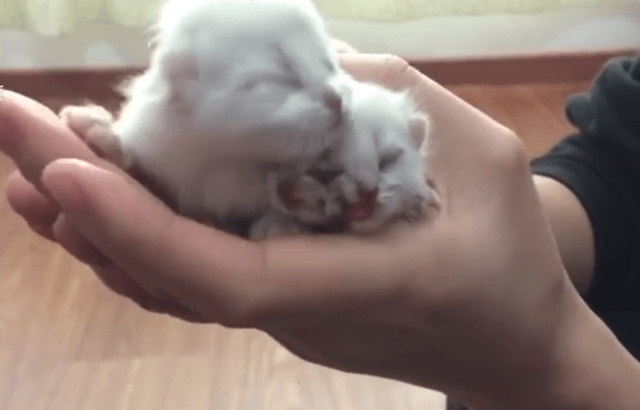 The most famous and longest living Janus cat was Frank and Louie – or Frankenlouie – as he was affectionately referred to. The Guinness World Record holder lived to be 15-years-old and passed away from cancer in December 2014.
H/T to Daily Mail UK
All Images via Pear Video