Cats don't generally care for sharing their food.
They don't care to share with other cats and certainly not dogs. And felines especially don't harbor any desire to share dinner with a wild interloper sporting a naked tail and a long snoot!
Ask Imgur user MrRogers247 and his fluffy orange and white cat. When a possum came for a visit one night, it looks like the cat wasn't a fan of having to share the dinner bowl.
The photos of the encounter tell the story of a hungry kitty who just doesn't quite know what to do about a giant possum dinner thief!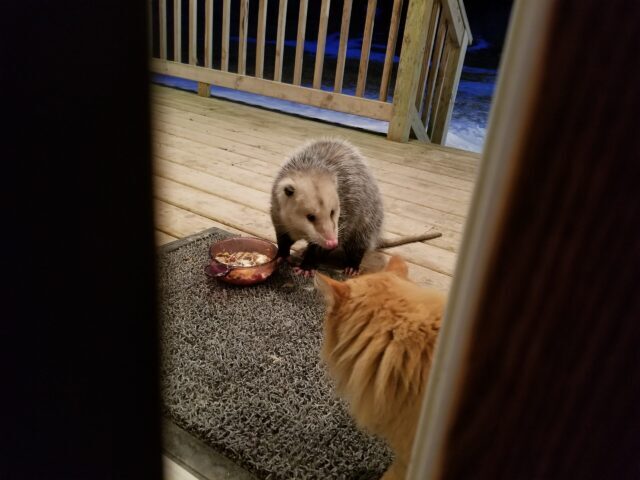 Kitty Doesn't Want to Share
Spying a possum snacking on a bowl of chow, the cat isn't thrilled about the extra mouth hanging around. The kitty tries to let the possum know what's actually up with that bowl of food, politely saying, "Excuse me, that's actually MY dinner."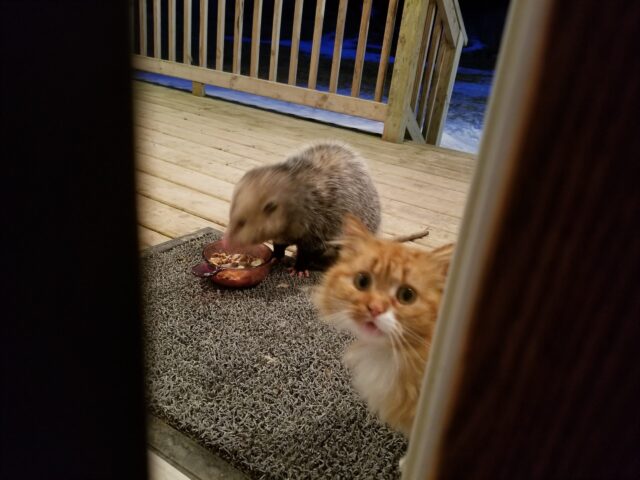 When the possum doesn't get the point, the cat looks to his human, pleading, "Umm. A little help, please."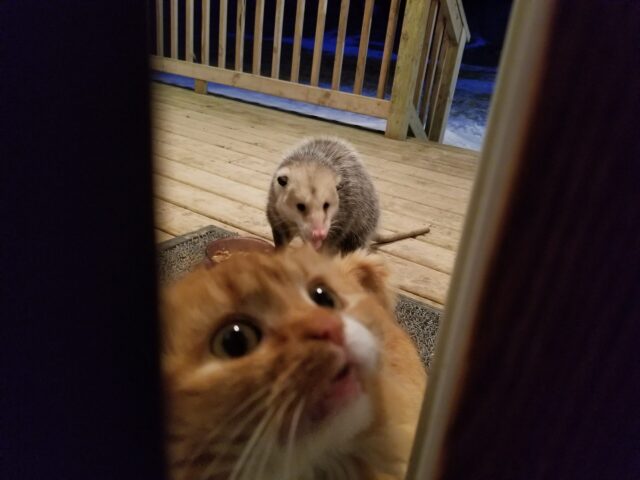 And when the kitty's human doesn't correct the possum, the floof explains, "You see there's been a mistake, you accidentally gave MY dinner to this imposter."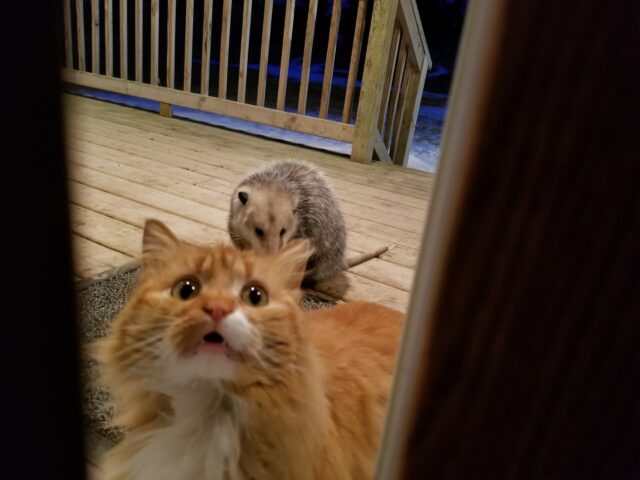 Reasoning with the human gets a kitty nowhere, so he decides to take matters into his own paws.
"You serious??? You're just gonna stand there and take pictures, I'm starving… You know what, that's fine."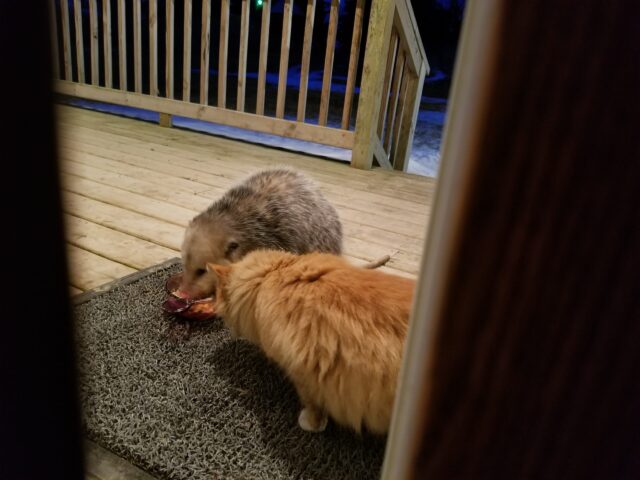 "I can share…oh my favorite. CAT food."
But the cat quickly realizes possums don't play when it comes to food either!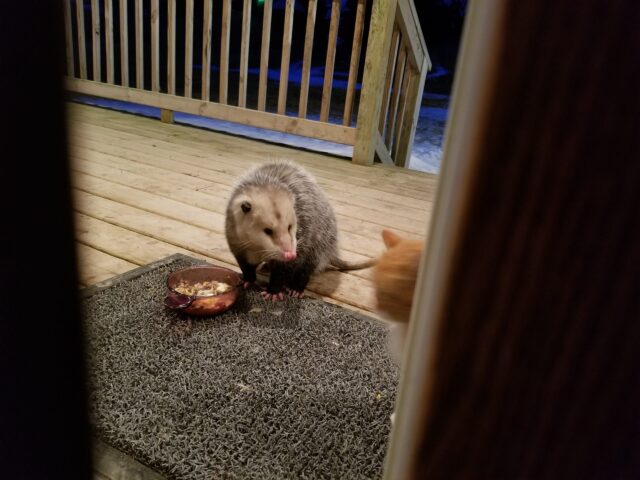 Just one nasty look from the intruder and the feisty feline soon says, "Ok, ok, ok, sorry, enjoy."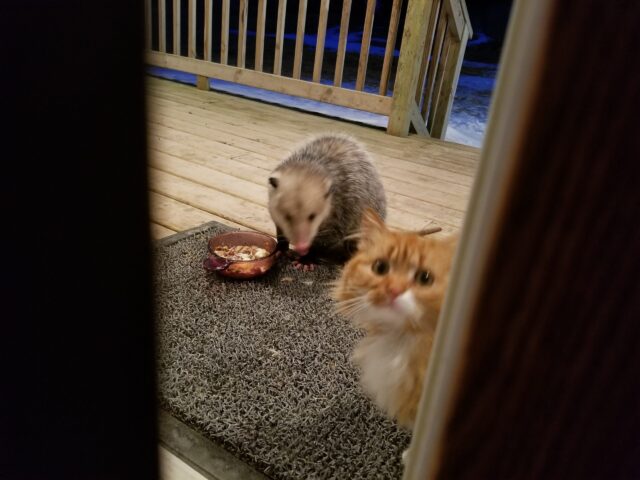 And the poor cat casts the most defeated look to his human. Hopefully, the kitty was let in, snuggled, and given a bowl of dinner all to himself! This cat and possum encounter certainly isn't the only one in history. Possums are wily creatures and often make themselves at home in backyards and quiet nooks. For example, check out the tale of a baby possum living undercover as a cat.
Plus, social media offers plenty more evidence of cat/possum encounters!
Here's "j
ust a little girl-talk" between fur faces…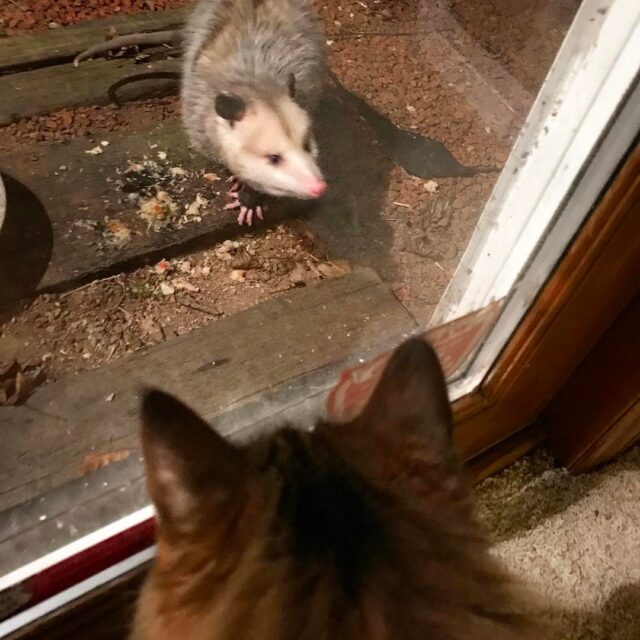 Here, Slater the cat wants some of Odetta the opossum's delicious dinner!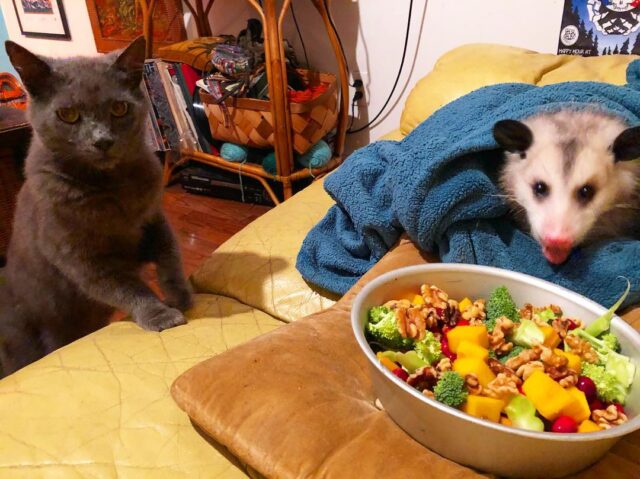 "Carol seems to have made a new friend that she really wants us to let inside!"
Odie the opossum doesn't seem to believe in boundaries, commanding his feline steed, "
Get up you lazy beast! We must ride!" 
While cats don't want to share dinner with the possum kind, it seems there might be an unspoken alliance between these creatures of the night. Perhaps cats and possums are bonded in their shared hissing abilities!
H/T: www.blog.pawsplanet.me
Feature Image: MrRogers247/Imgur