The Morris Animal Refuge in Philadelphia has an extremely large and popular cat in their care. Based on the response of potential adopters, he won't be a resident at the refuge for very long.
His name is Mr. B and he is 26 pounds of cuddly love. Not only is his large stature entirely appealing, he has the cutest puffy mouth that appears to be pursed lips and green eyes that seem very serious. In short, he is large, adorable, and fully in charge of the cat loving internet.

Image Morris Animal Refuge Facebook
The shelter has been absolutely blown away by the outpouring of support and interest in adopting Mr. B. When people started sharing his photo, the refuge's website was so inundated with clicks that it crashed and stayed that way the remainder of the day.
In the Facebook post announcing Mr. B's availability for adoption, the shelter asked for donations  to help take care of him and all the wonderful cats and kittens the shelter currently has in residence. So far, they have raised over $1800! That money will go a long way in keeping the shelter population healthy and fed.
Image Morris Animal Refuge Facebook
As the story gained steam, the smart cookies at Morris Animal Refuge decided to leverage Mr. B's fifteen minutes even more in an effort to raise funds for their operation. They designed a Mr. B "Chonk" t-shirt that you can buy "to support our lifesaving mission and help homeless pets like Mr. B." Limited supplies are available.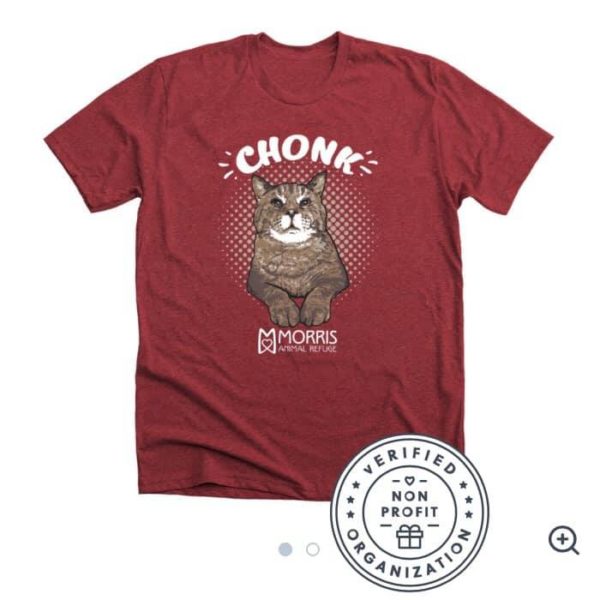 Image Morris Animal Refuge Facebook
The shelter is keeping Mr. B fans pleased by continuing to post updates on the adoption application process and short videos of his enjoying some quality time with the staffer that started the whole sensation. Here Mr. B is getting a bit of a rub down before bedtime.
https://www.facebook.com/morrisanimalrefuge/videos/2348864918720417/?hc_location=ufi
On the day the shelter website crashed, Morris Animal Refuge announced that they were so thrilled with all of the interest in Mr. B but that he wasn't quite yet to find his new home. They stated on Facebook,
We are overwhelmed by the number of wonderful people ready to give Mr. B his fur-ever home. We are excited to find him a home soon, but he's not quite ready to go home yet. He still needs a more thorough check up by our vet. We will announce as soon as he's ready to go!
Image Morris Animal Refuge Facebook
Mr. B must have passed his medical assessment with flying colors because it didn't take long for a follow up, announcing that the massive pool of candidates for Mr. B had been narrowed down. The shelter will share the big news once a final selection has been made.
We want to thank everyone for the tremendous outpouring of support of Mr. B and the lifesaving work we do here at Morris Animal Refuge. We have gotten it narrowed down to a handful of potential adopters that we think can give him the perfect home. His adoption should be finalized early this week!
We will be keeping an eye on Mr. B and hope he has a successful adoption in the coming days!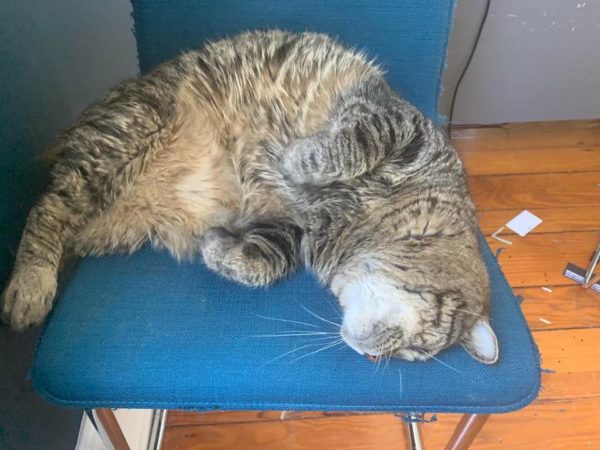 Update: Morris Animal Refuge has announced that they have recieved over 3,000 applications to take Mr. B home! But for now, he has been placed with an experienced foster who is helping him work through some health and behavioral issues, to give him the best chance of success with a new family! Keep up with his progress on Facebook!
https://www.facebook.com/morrisanimalrefuge/photos/a.172775422753215/2735461593151239/?type=3&theater
Image Morris Animal Refuge Facebook
Featured Image Morris Animal Refuge Facebook