Elsa, a tiny abandoned kitten, was rescued by a woman who immediately knew Elsa was blind. The woman called a cat rescue, who then contacted Crystal to see if she would foster the little kitty. Crystal had experience with blind cats, and the rescue group felt confident that Crystal would teach the little one how to navigate the world.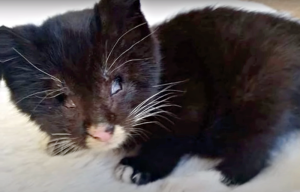 The vet explained that Elsa's eyes never fully developed and needed surgery to remove them. The little kitty was such a trooper! Crystal picked up Elsa and brought her home. The kitten, who also suffered from neuropathy, had a tough time getting around. She had to learn to rely on her ears and little nose to guide her.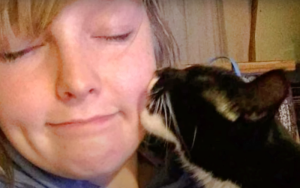 Elsa adjusted like a champ! She proudly frolicked about once her body was stable. She used the bells inside her toys to play. Her will inspired Crystal, and she couldn't give Elsa up. Elsa loved Crystal so much that she hugged her as much as possible to thank her for being the best mom ever.
Crystal was the center of Elsa's universe until someone extraordinary came along. Just wait until you see Elsa's journey and experience her sweet cat hugs. You'll be smitten with this kitten!
Please 'SHARE' to pass on this story to a friend or family member
Click 'SHARE' below to pass it on to a friend or family member!