Kittens are curious little beings, driven by the urge to know everything about everyone and everything that comes on their turf. And while some littles might hide away and take in facts from afar, some of the bolder kittens will meet the unknown head-on and aren't afraid to get paws involved too!
Young Miro is a gray tiger kitten of the bold variety, and when a strange newcomer showed up on his porch, he wasn't afraid to pounce right in and introduce himself. And Miro's dad was right there to catch the meeting on camera so we can delight in the kitten and his fawn friend!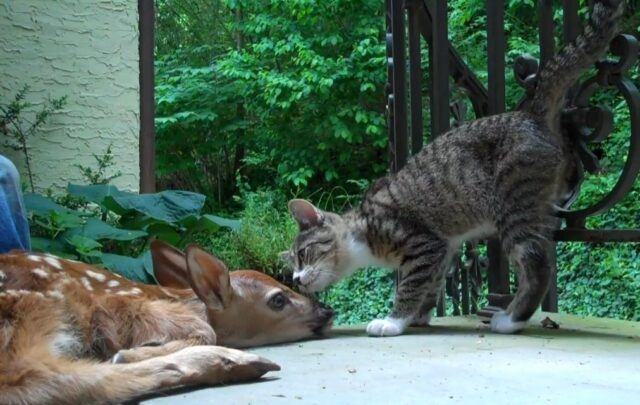 Spotted Stranger Is Too Cute Not To Touch
Spying a spotted stranger, little Miro is oh-so-curious about the fawn lying on his front porch, he has to go over and give the baby a sniff. And when the young fawn doesn't move, Miro then goes in for a different kind of inspection, bounding off the porch to touch the deer and sniff its soft ears. But because the fawn is just a couple of days old, it's not sure what to make of the striped kitten. Its nose sniffs away at the air, trying to figure out just what that furry little thing is!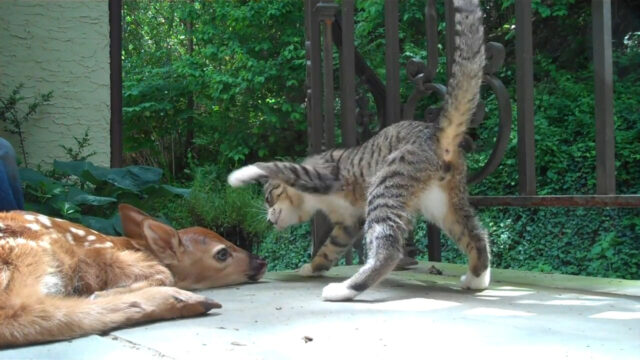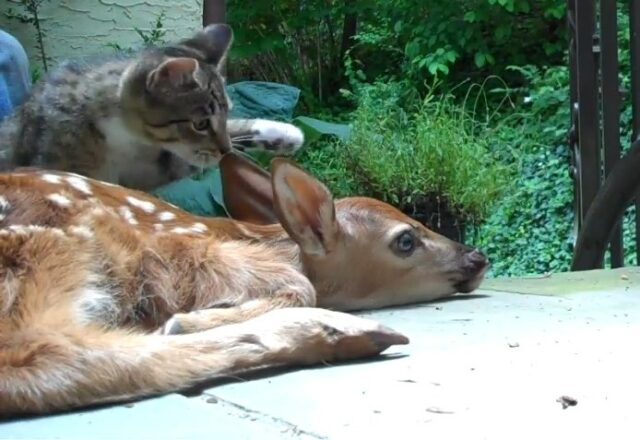 And just like a kitten consumed with a case of the friskies, Miro's curious touches quickly turn to head thwaps. Don't worry, though; Miro was only being silly and made sure to keep his claws sheathed. But when the fawn doesn't respond to Miro's batting and swatting with play, the little tabby stretches out to reevaluate and then decides his tail makes a worthy play substitute.
RELATED: 4 Things You Should Know About Your Cat's Tail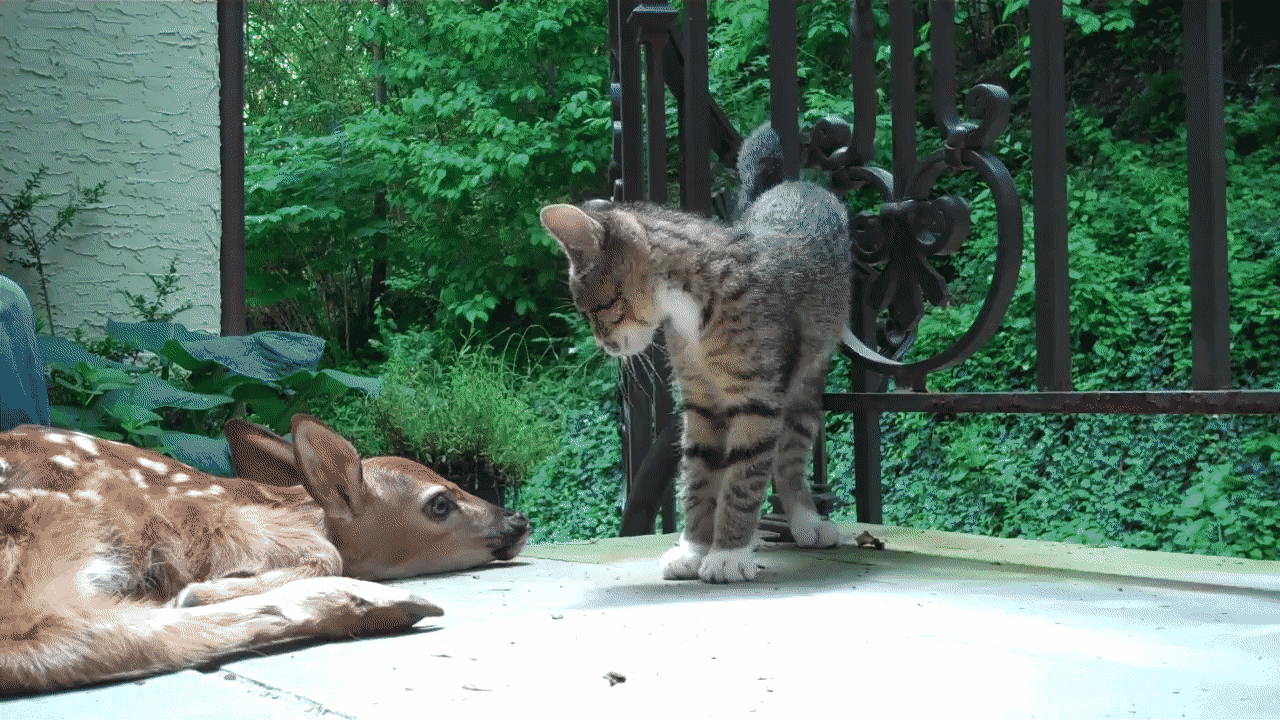 Yet Miro can't stay away and returns to his earlier game of tempting the fawn to play. And when Miro gets a little feisty, his dad warns the little tabby bully to behave. But to prove he's just a sweetheart who wants to play, Miro flattens out and mimics the deer's position as if trying another approach. And it makes for the sweetest of moments.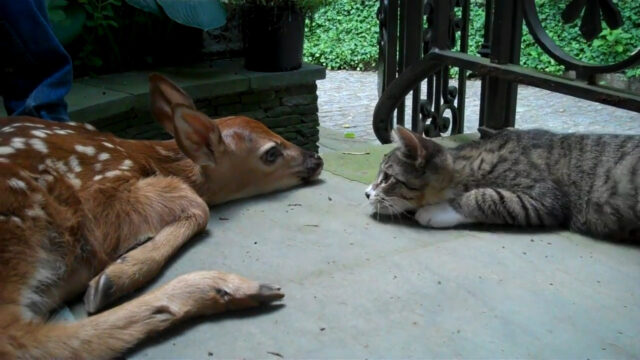 Too Young For Playtime
But then wild Miro is back, pouncing and hopping all around the fawn. But the little fawn won't budge! Miro doesn't realize the baby is barely forty-eight hours old, so walking is hard. And watching his tiny gray tiger's persistence, Miro's dad says, "You're such a bully, Miro."
Awww, the stripey kitten just wants to play with his new spotted friend! But the fawn won't play, so Miro decides to bathe his paws instead. Maybe one day, the little fawn will come back for a romp, but for now, the baby has returned to the woods for a reunion with its mom. And it seems this isn't the only feline and fawn friendship out there. Check out Unlikely Friends: Cat Lavishes Love On Baby Deer In Cutest TikTok Video!
Feature Image: Rumble Viral/YouTube