Peaches (aka Lily or Snickers) is a cuddly calico that considers the Duke University campus as her home.
Though technically a stray, this loved kitty actually has a huge family, extending among the college's student body. They give her cuddles, meals, and keep an eye on her, and now they want to take their care a step further.
Two students, named Anna Matthews and Anna Li, thought it would be best for Peaches to take a trip to the vet to make sure that she is as happy and healthy as possible. 
View this post on Instagram
"In the interest of keeping her healthy so she can live a long life (and also for the safety of students who interact with her), we would like to take her to the veterinarian to get rabies vaccinated, a physical exam, among other things (there have been concerns that she may also have stomach worms)," reads Peaches' GoFundMe page. "This fund is to cover her veterinary bills and any potential medications we may have to give her."
While the page's original goal was to raise $300, donations have currently surpassed $800 in order to help with the kitty's care. Peaches is certainly loved!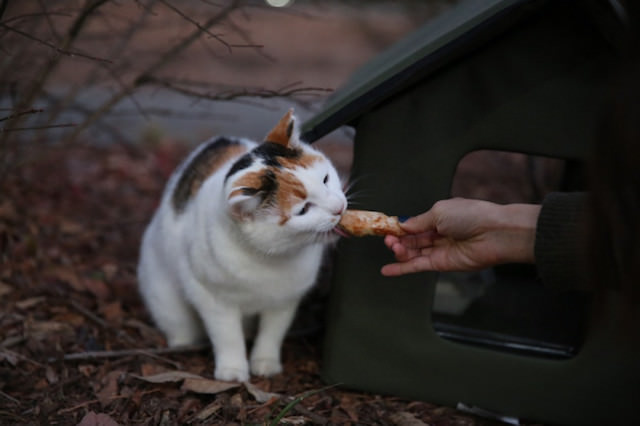 "You'd be hard-pressed to find a Duke student who hasn't met or heard of Peaches, the friendly calico cat that lives behind Few Quadrangle, one of the Duke dormitories," Li said in a story by People Pets. "For students who are stressed out from school and missing their pets back home, this provides so much needed therapy and stress relief."
"Sometimes it's even hard for me to get a minute with her because there's always someone out there petting her!" she added.
According to the story, the GoFundMe creators were hoping to raise enough money to provide veterinary care for another campus cat named MammaBean. And according to the Duke Chronicle, there are several other strays that the students care for. We're so glad that their campaign proved to be so successful!
It's awesome that these students took it upon themselves to make sure these kitties remain happy and healthy. What a great example to set for all – thanks for caring for your feline friends!
(h/t: People Pets)