When you're a cat lady, getting kitty stuff is a must. I mean, can you even be a cat lady if half your wardrobe doesn't have a feline theme, or you're not tripping over cat toys at every turn? If this is your life and you're totally devoted to your cats, then you'll love a CatLadyBox!
I sure did! It came packed with super cute stuff for me and toys for my cats. And with seven felines in my house, we need all the toys we can get! But before I break the goodies down, here's the lowdown on this purrfect subscription box designed to bring joy to your life and whiskers to your heart.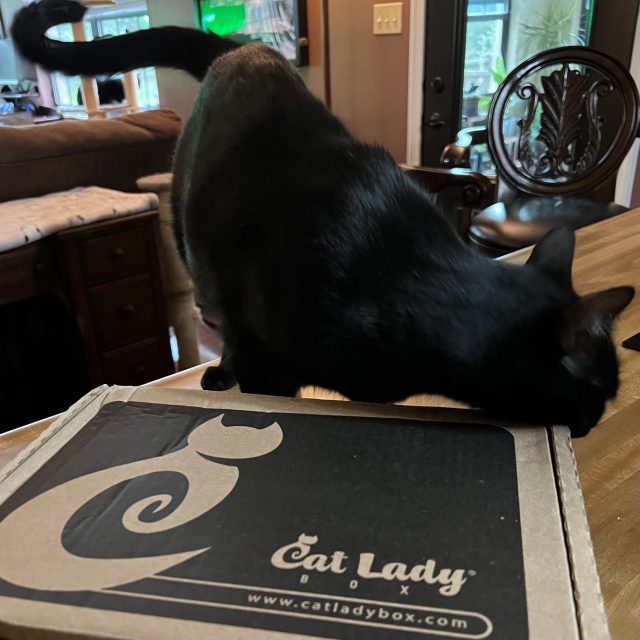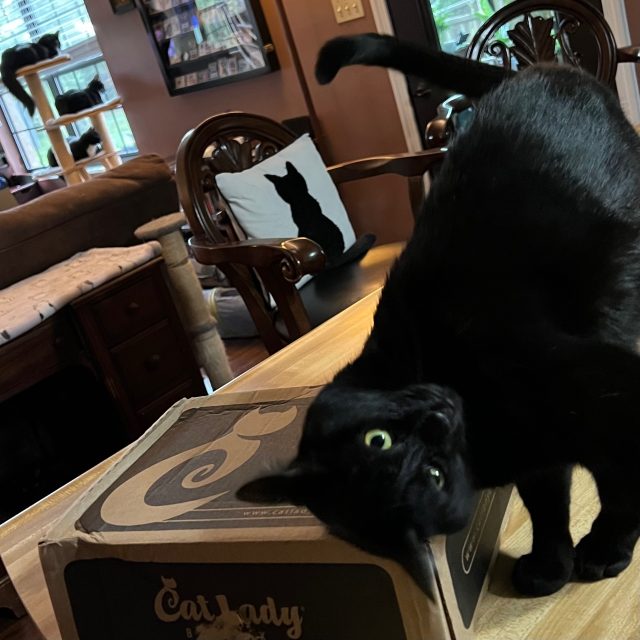 What is CatLadyBox?
CatLadyBox is a monthly subscription box tailor-made for cat enthusiasts that offers a cute and fun theme every month. Each box is thoughtfully curated to deliver a mix of cat-themed goodies and high-quality, unique items that cater to your love for our feline friends. I received the "My Fairy Realm" themed box and just about swooned from its adorable 90s vibe. Think Lisa Frank and Saved by the Bell!
And because giving back is important, CatLadyBox implemented their CatLadyBox Cares program to help cats in need. Every week, they donate supplies to a different shelter in order to spread the wealth and love to as many kitties as possible. The program also sponsors spay and neuter events, donates to special rescue projects, and funds vet bills whenever they can.
They've furnished a new cat cafe and adoption center, helped a rescue purchase a van to use for cat transports, donated funds to help buy an incubator for neonatal kittens, and chipped in on a new industrial washing machine for a rescue in need. And this is just some of what CatLadyBox Cares does!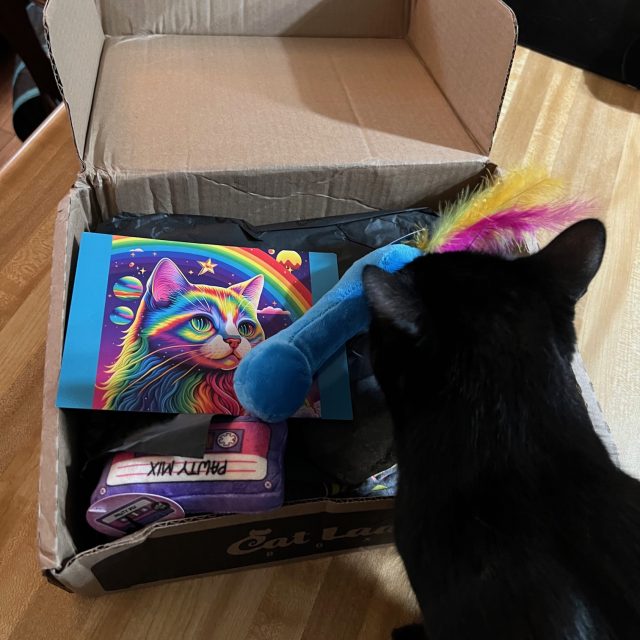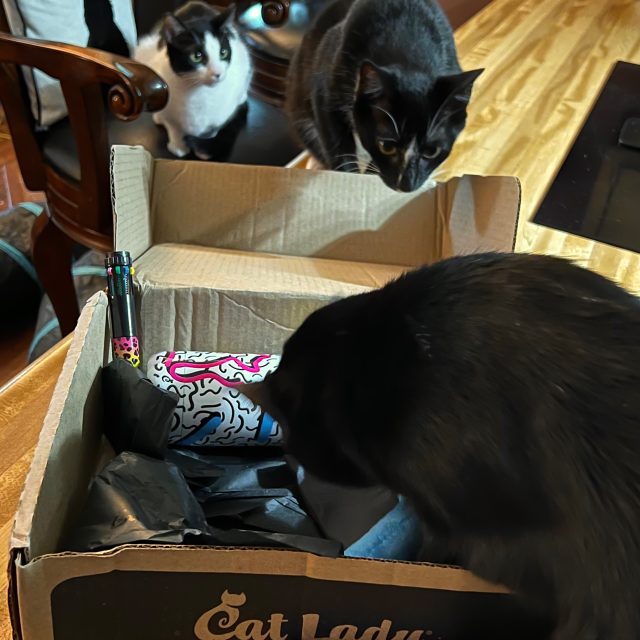 What's Inside the Box?
When you open your CatLadyBox, you'll find an array of delightful surprises. These typically include:
Cat-Themed Home Decor: Think cozy cat-themed blankets, decorative pillows, and stylish wall art that adds a touch of feline charm to your living space.
Cat Lover Accessories: From jewelry to clothing items like T-shirts or scarves, CatLadyBox provides subtle and fashionable ways to showcase your cat love.
Cat Toys and Treats: Expect a variety of toys that'll keep your furry friends entertained for hours, from feathered wands to interactive playthings. And, yes, there might even be some treats to spoil your kitties.
Cat Lady Essentials: You'll also receive practical cat-themed items like mugs, stationery, and bags that let you proudly proclaim your love for cats to the world.
What My Box Contained
My cat Ren was gracious enough to help open the box and was quite pleased to find it stuffed with goodies for him to plunder! I barely had a chance to look at the cute presentation before he was pulling out his new toys. Inside our box, Ren and I discovered:
The Totally Cats Shirt – A totally tubular v-neck shirt with pink and yellow design
Cool Cat Sunglasses – Classic style with cat accents
Ameowzing Water Bottle – 304 stainless steel bottle with colorfully rad design
Electric Leopard 10-Color Pen – Click for any color and trip down memory lane
Retro Phone Catnip Toy – Calling all kitties for some plush and feathery fun
Pawty Mix Catnip Toy – Push play on some catnip-induced good times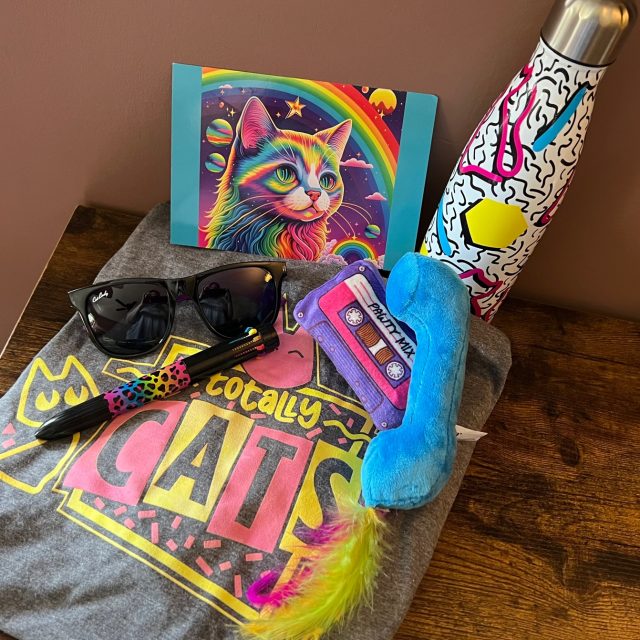 Our Thoughts (The Kitties Like To Have Their Say Too) 
I was highly impressed with the quality of all the items in the box. Made of a polyester/cotton/rayon blend, the shirt is so soft against the skin, while the design is too cute without being too much. I got a 2XL size shirt because I like plenty of room, and it delivered, so know that sizing runs true. The sunglasses came in their own bag that can be used to clean the lenses, and one of the legs has a cute print of kitties for those who prefer minimal style. They're sturdy enough that you can toss them in your bag and still slip them on with no bending or warping.
The 10-color pen took me back to passing notes in middle school, and now writing lists is even more fun and color-coded. The water bottle matches the quality of its box mates with its thick stainless-steel construction and fun 90s-inspired print. It's my new favorite bottle for daily walks.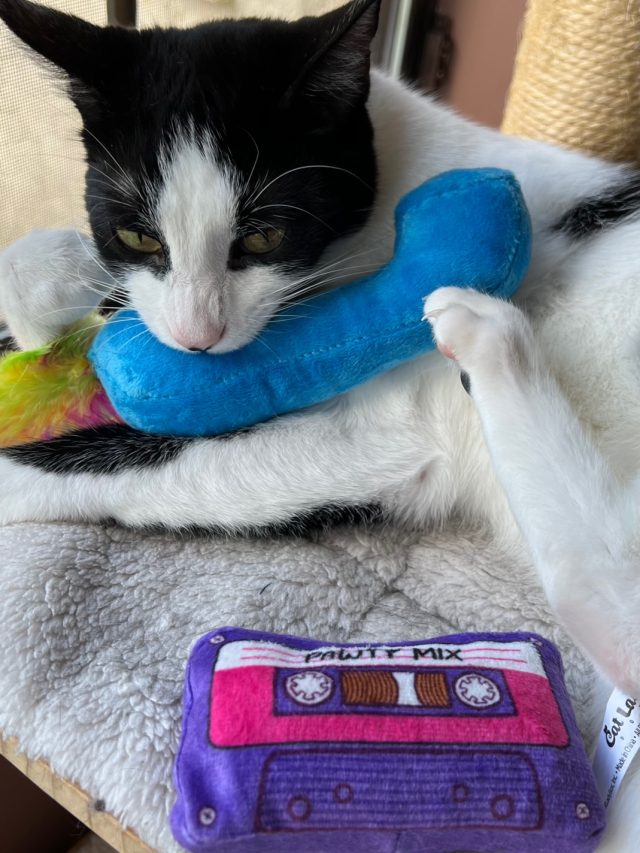 Now, the cats want me to tell you they were very impressed with the toy quality and the catnip inside them! New toys definitely get a workout around here, and these two cute plushies have survived the initial investigations. The phone toy still has its feathers! Both toys are made from super soft fabric that, while plush, is still durable against excited claws and teeth.
In receiving this box, I was blown away by the quality of everything included. You can tell the people at CatLadyBox care about what they're selling because the designs and durability are top-notch. I'm certainly considering a subscription, and that's a big deal because I'm just as picky as my kitties!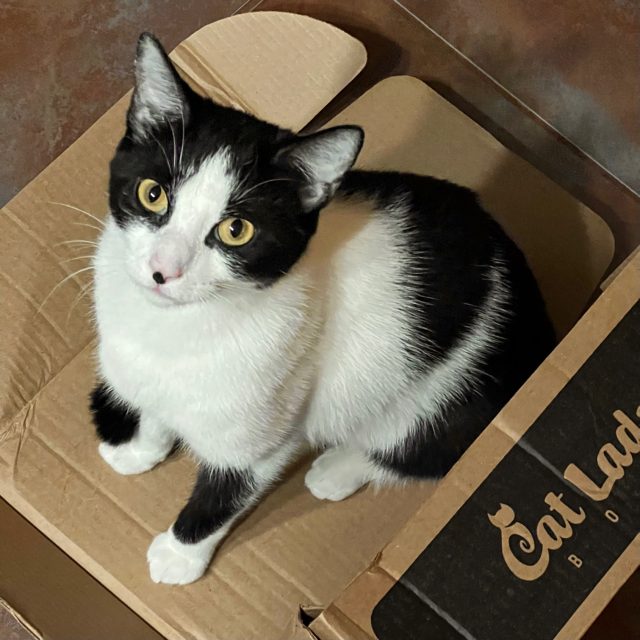 So, how much are these fun boxes of cat lady goodness? Check out the options below.
Subscription Options and Pricing
CatLady Box offers different subscription plans to cater to your needs:
Crazy CatLady Box: Priced at $39.99 per month, this box includes 3-4 cat-themed items, plus 2 goodies for your cat.
CatLady Box: At $34.99 per month, this option provides 3-4 cat-themed items. (No items for your cats.)
Depending on your commitment level, you can choose between monthly, three-month, or six-month subscriptions.
Shipping Information
For CatLadyBox subscriptions, shipping is FREE within the contiguous United States. For customers in Canada or U.S. friends outside of the 48 states, shipping costs $12.95 a month. For one-time product purchases, shipping varies based on your order size and shipping address. The shipping price will be calculated before you place your order.
For more great boxes of fine feline merchandise, check out The 7 Best Cat Subscription Boxes For Monthly Fun!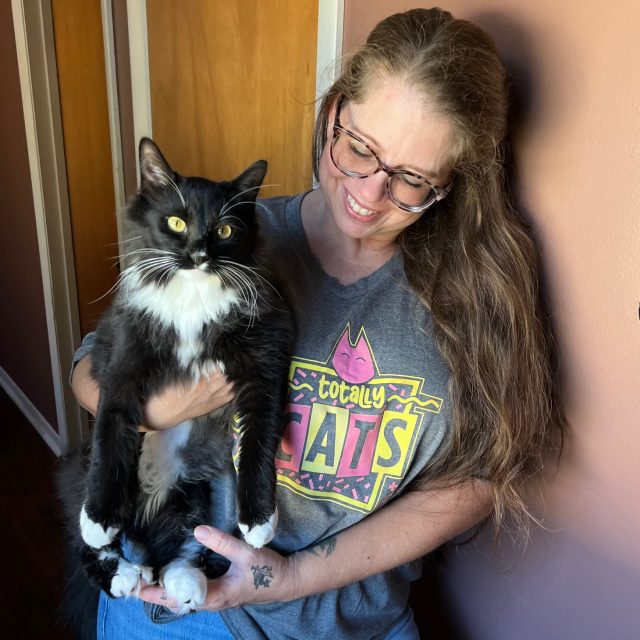 The Final Word
To sum it up, CatLadyBox is a delightful monthly treat for cat lovers that combines style, fun, and a sense of community. It's more than just a subscription box; it's a celebration of the love we have for our feline companions. So, unleash your inner cat lady (or cat gentleman!) and treat yourself or a fellow cat lover to the joy of CatLadyBox.
Simply visit the CatLadyBox website, answer a few questions, and start watching your mailbox for your box of feline fun!