Natasha Ryce and her teenage daughter, Jessica Ryce, were visiting Natasha's parent's 40-acre fa...
Kaylee and Orion had been together for 5 years before they decided to tie the knot. Though they coul...
Two years ago, Ashley Norlien adopted an adorable cat named Potato. Like any cat parent, she was exc...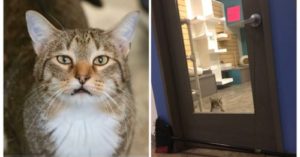 Quilty the cat may seem a naughty cat to some, but to his feline friends, he's a hero. Recently, t...
Cats can get angry over the silliest things sometimes, but this cat has a perfectly good excuse for ...
The day that Tiger the tabby was accidentally let out of his upstate New York house and disappeared,...
Many cat parents would likely be concerned if their cat was gone for hours on end, but for George th...