You may remember back in June when we profiled a cat named Frank, who was nominated for the Cats Protection's National Cat Award 2016 (in the "Better Together" category), sponsored by PURINA®. The kitty had saved his owner's life by helping him through a difficult battle with alcoholism.
As of August 4th 2016, a winner has been picked. Although Frank did not nab the award, we love him for his life-saving loyalty. Meanwhile, National Cat Award winner Tink has an incredible story that deserves to be told.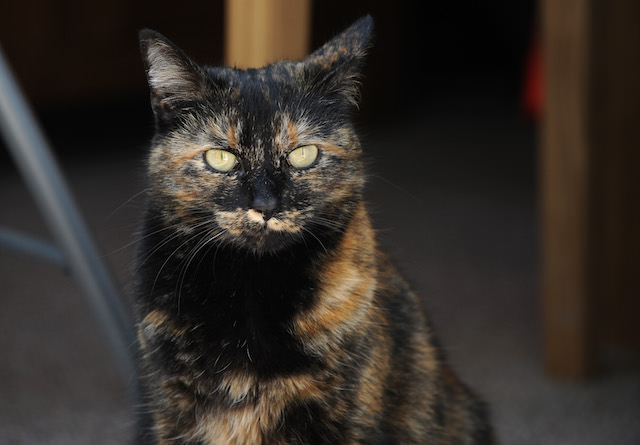 Tink is a 5-year-old tortoiseshell who managed to single-pawedly save the lives of her entire family when a fire broke out in the middle of the night. An electrical fire broke out in the building next door, setting the Hopkinson's family home ablaze. Sleeping inside were parents Claire and Russell and their sons Jake and Scott, 19 and 22 years old, respectively.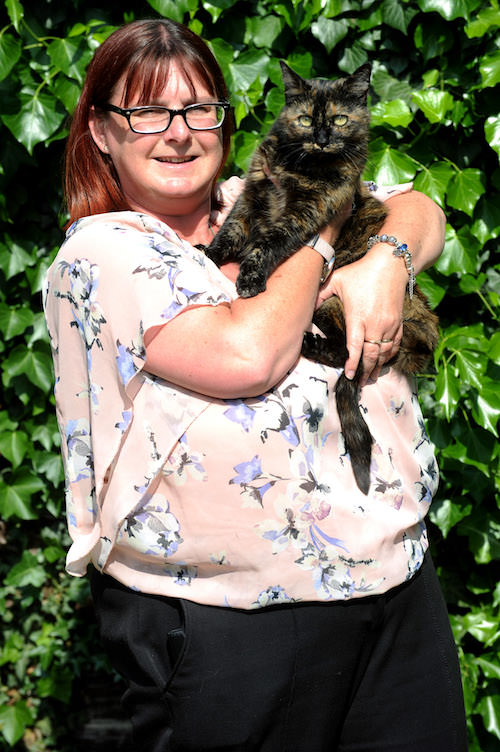 In a press release by Cats Protection, Mrs. Hopkinson, who accepted the award on behalf of Tink, recalled that night:
I was fast asleep when I felt this thud on my legs and realised it was Tink. She doesn't sleep on our bed and it was unlike her to be on it. As soon as I opened my eyes all I could see was white smoke.

My two sons sleep with their doors shut and when I opened Scott's door, this thick black smoke bellowed out. The smoke had passed through the vent straight into his room and he was fast asleep. Because his door was shut the smoke hadn't yet reached the fire alarm – without Tink waking me Scott would have been in huge danger.

We quickly got out of the house but, in the commotion, Tink took fright and hid behind a cupboard. When the firefighters arrived they asked if anyone was in the house and we explained our cat was.

A firefighter went in and found her but, when he brought her out, she was unconscious and limp. We were heartbroken and thought we'd lost her. But the firefighters had a special oxygen mask for animals and Scott sat in the fire engine holding it on her for an hour until she came round.

I can't explain how relieved and happy we were she pulled through. Tink is a truly special cat, we love her to bits. She's our hero and an essential part of our family and we're so proud of her for what she did.
Watch Tink's Finalist Video Here:
Thankfully, Tink survived, but it's clear she would have given her life in order to save her family. What a brave kitty!
Celebrity judge, actress Anita Dobson, explained why she voted for Tink amongst the five finalists. "Tink's story stood out because it really tugged on my heartstrings, particularly the part where she passed out and had to be resuscitated by firefighters. She is a true hero!" she said.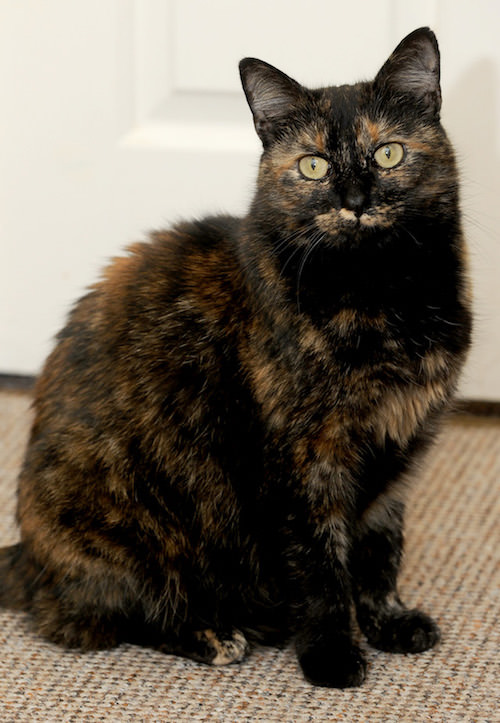 Along with the prestigious "National Cat Award" title and meowing rights, the deserving Tink has earned herself  a trophy, a pet store voucher, a year's subscription to Cats Protection's The Cat magazine, and a 3-month supply of PURINA® cat food.
Thank you to Cats Protection for letting us share this wonderful story as well as beautiful pictures of Tink.
What an amazing cat! Do you have a cat hero story? We'd love to hear it!