You know the drill, it's meal time and your kitty is excited about what you're putting into his bowl. You fill it up and he's rubbing on you and purring but when you put the dish down exactly where you always do he takes a sniff and just… stares at you.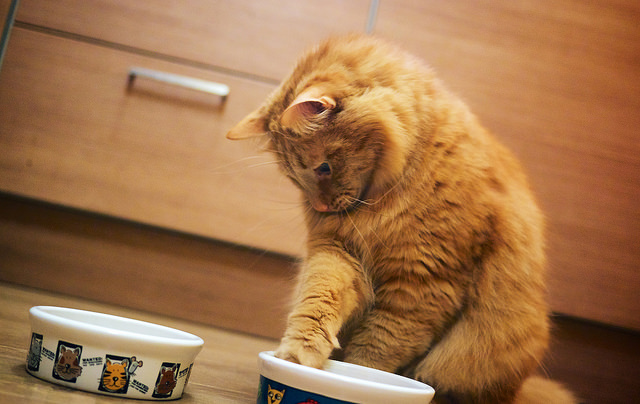 It's not like you're feeding your cat old, rancid food – it's fresh from the container! Even if you have never fed your kitty people food, he's somehow got it in his furry noggin that the cat food you thoughtfully picked out for him is beneath his royal kitty-ness.
Of course, if kitty has no interest in food all of the sudden and isn't eating anything, take him to the vet immediately. But if he's excited about feeding time yet won't touch his food dish until hunger sets in, chances are he's just a picky eater. Don't worry, though – this is common. Fortunately, we've got one simple, healthy trick to get your cat to eat his food.
The Easy, Healthy Trick to Get Any Cat Picky About Food to Eat!
Here's the trick: Just add some nutritious treats into your cat's meal and you've suddenly made his bowl of food irresistibly delicious! He'll be devouring his food in no time. This works with both wet and dry food. You can crumble up the treats if you like. We recommend mixing them into the bowl so your furry family member doesn't just pluck the treats off the top.
Our Single Ingredient Grain & Gluten Free Freeze Dried Cat Treats are 100% raw, freeze-dried meat or fish – the perfect food for your kitty!
Bonus: each purchase helps two different kitty-causes! Our manufacturer donates a portion of their proceeds to The Big Cat Rescue Corp, a 501(c)(3) nonprofit organization. In addition, iHeartCats donates 5 meals to shelter cats with every bag of treats purchased.
Why Raw?
Did the word "Raw" freak you out a bit? It's understandable as raw chicken and beef are not considered fit for human consumption. However, cats (and dogs) are perfectly capable of consuming raw meat, and when packaged and handled properly it is even better for your feline friend than cooked meat.
Just think of feral cats. They catch their own prey and of course eat it as it is, raw. Raw meat is a cat's natural diet and helps keep bones strong, coat shiny, and kitty happy! Raw food even provides dental health benefits for your kitty. Chewing these treats stimulates blood-flow to the gums which discourages infection caused by tartar build up.
Raw Cat Treats
Plain meat is the absolute most healthiest thing you could feed your cat. Our Freeze Dried Cat Treats are raw, single-ingredient chunks of meat that have gone through a 48-hour freeze-drying process to ensure that the maximum amount of nutrients stays trapped inside each morsel while protecting against pathogens. The result: each meaty bit is a wholesome, nutritious, all-natural flavor bomb for your kitty, with zero guilt! On top of that, the meat is processed in the USA and comes from livestock raised on family farms in the USA.
Any cat picky about food is going to love these treats! To learn more, check out the following products:
These statements have not been evaluated by the Food and Drug Administration. This product is not intended to diagnose, treat, cure, or prevent any disease. The information on this website is not intended to replace a one-on-one relationship with a qualified healthcare professional.