R.J. LaCount always considered himself a "dog person." Needless to say, he never expected to fall head-over-heels for a handsome rescue cat!
An animal lover all-around, R.J. grew up surrounded by dogs. It wasn't until a friend showed him a cat's photo that he began to think about adopting a feline friend.
"I grew up with bulldogs in my family, and fell in love with 'goofy' looking animals, but am just not home consistently enough for a dog these days," he explained to iHeartCats.

"I hadn't really considered cats before, until someone linked me to a picture of a Persian cat, and I fell in love with how unique they looked."

"I never liked the breeding aspect, however, so I did a search online for 'Persian cat rescue in Seattle' and found Seattle Persian and Himalayan Rescue."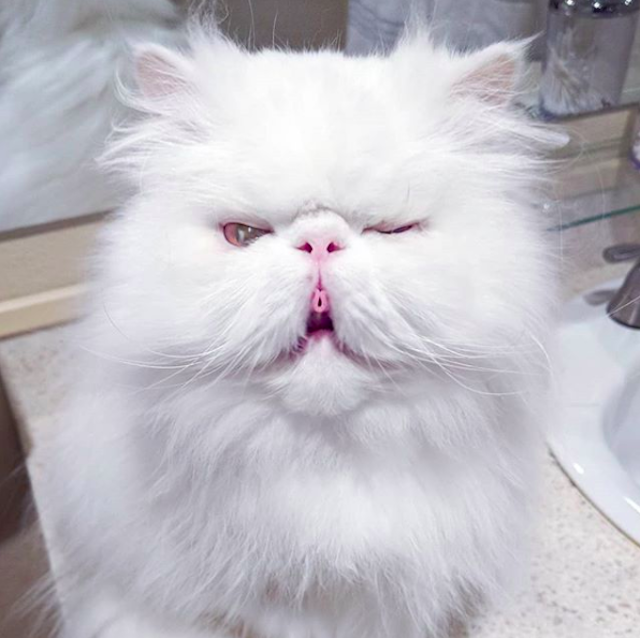 R.J. called the rescue, and a staff member named Alex told him about a newcomer named Brimley. The 1-year-old kitty had just come into their care from enduring what must have been a terrible past. The cat dad explains:
"Brimley came from an inhumane breeder only two days prior to my call, where they were using him as the stud at a young age, and had both of his eyes sewn shut when he developed a major eye infection, rather than paying to get the surgery he needed. By the time he was relinquished to the rescue, they didn't even know his eyes were sewn shut due to the goop caked over his face and chest, staining his fur."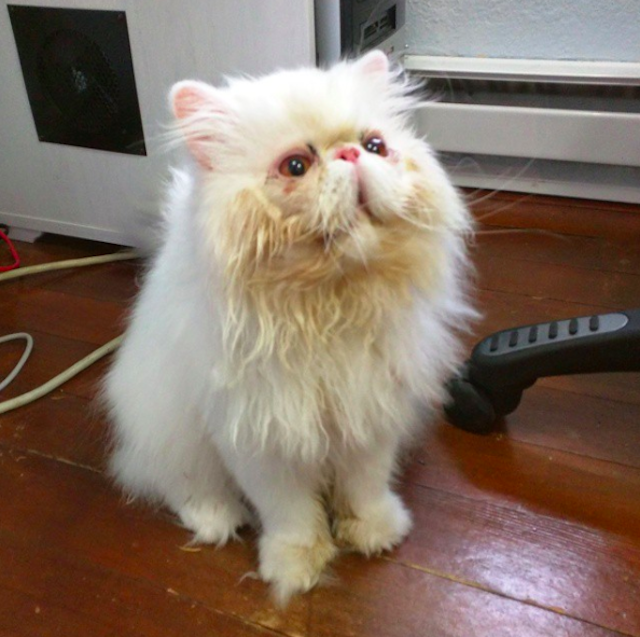 R.J.couldn't wait to meet Brimley, but he wasn't sure how the kitty would react to him; after all, mistreatment from humans was pretty much all he'd known.
"After hearing this story, I thought for sure he would hate people (I sure would!), so when I drove up to meet him, I just sat on the other side of the room and figured I'd let him come over to say hi if he wanted to."

"As soon as I sat down, he immediately came over for pets, purring like crazy, and I knew I was going to take him home. The rescue requires a foster period first to make sure things go well, but I went ahead and filled out both the foster and the adoption paperwork on the spot, and brought him home that night."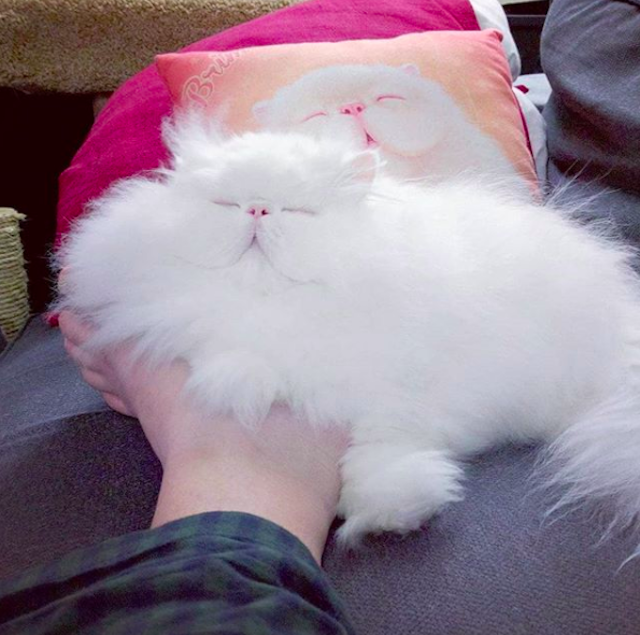 The newly-neutered kitty was still receiving treatment for his eyes when R.J. took him into his care, and the fate of his vision was uncertain. But the cat dad stayed dedicated to his routine, and miraculously, Brimley made a full recovery! R.J. told us:
"He had what's called a corneal sequestrum in both of his eyes, which looked like sort of a black flake over his eyeball. It was more pronounced in his left eye, which the rescue told me he would likely lose. When I adopted him, he was on a rigorous course of medication twice daily, which included eye drops, eye ointment, oral medication through a syringe, and painkiller pills.

After a couple months of treatment, and weekly baths to work on the stains, the sequestrum flakes actually fell out of both eyes naturally. He never even needed surgery. I still take him to an eye specialist here in Seattle annually, just to make sure everything is still going well, and at the last appointment, the doctor told me he had the best eyes he had ever seen in a Persian cat!"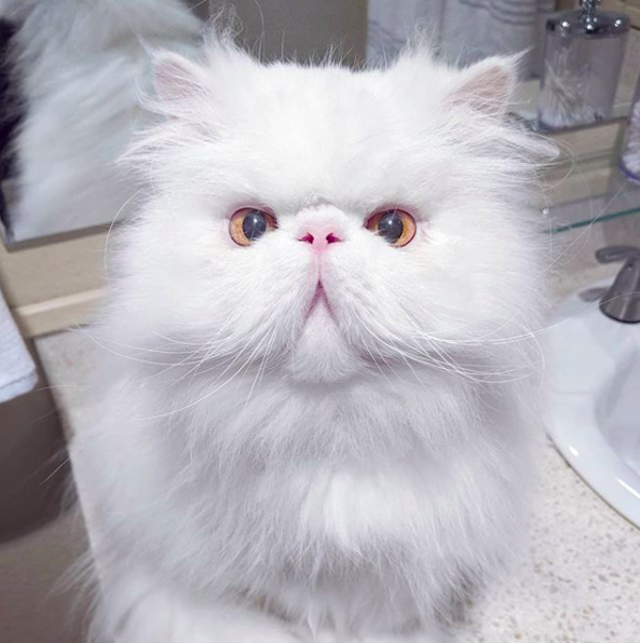 It's been 3 years, and the now 4-year-old Brimley is king of his castle! He's an only pet, and as R.J. says, he wouldn't have it any other way… although he loves the human visitors that stop by!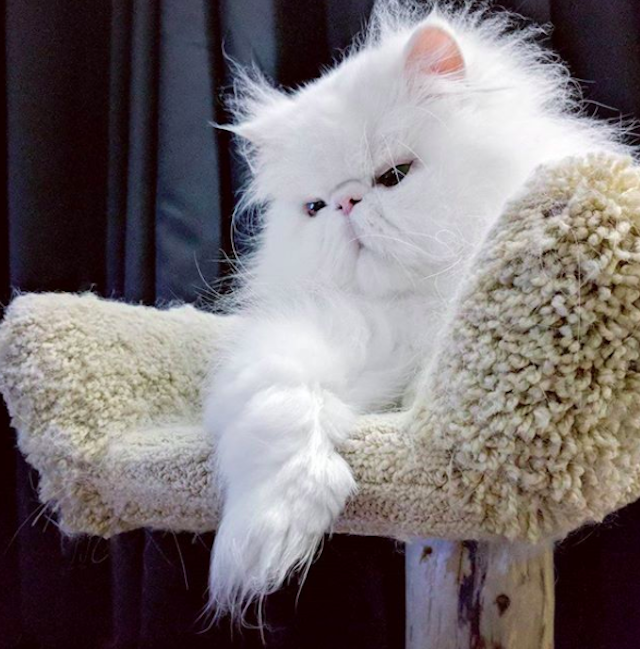 Because of his long fur, this stunning kitty enjoys a luxurious brush session every day, and his dad always makes sure to keep his eyes clean.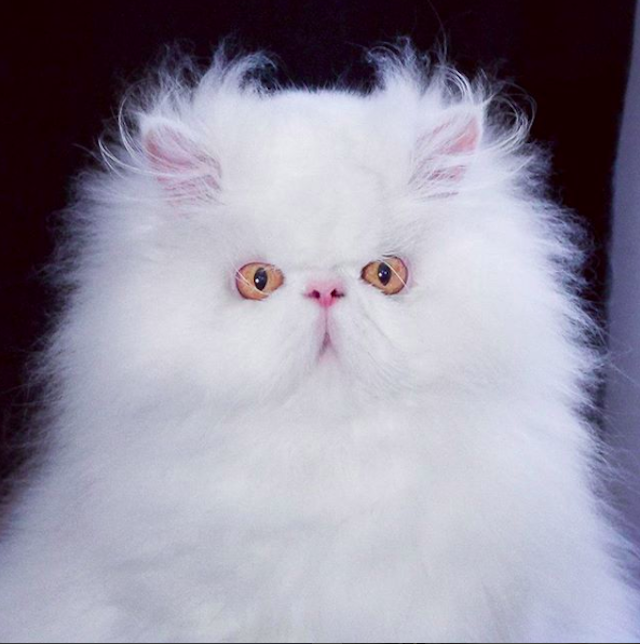 After adopting him, R.J. discovered that Brimley is deaf, but that cat dad says this isn't necessarily a bad thing.
"I'm not sure if it's how he was born (I've heard it's very common with purely white cats), but he's been deaf since I adopted him. Since he's in a safe environment now, it actually works to his benefit in a lot of situations (namely holidays with lots of noise and fireworks, which he just snoozes through). It can also lead to some funny wake-up-calls when he doesn't quite know how to control the volume of his loud meows into my ear in the morning!"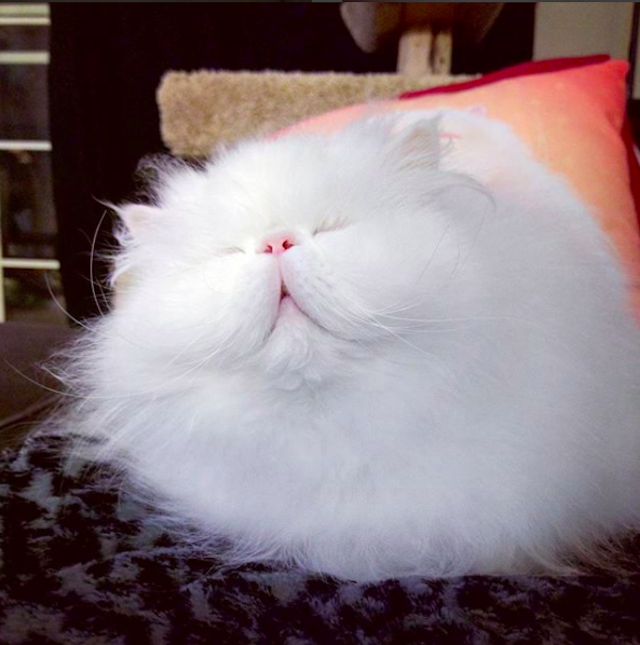 R.J. and Brimley like to stay involved with the Seattle Persian and Himalayan Rescue, and often help out with events and fundraisers. Oh, and one more thing — this "professional smiler" is Instagram famous, with an impressive following of over 45,000!
Follow @brimleycat on Instagram, check out the Brimley cat website, and like the Seattle Persian and Himalayan Rescue Facebook page for fun updates, and of course, lots of adorable cat photos!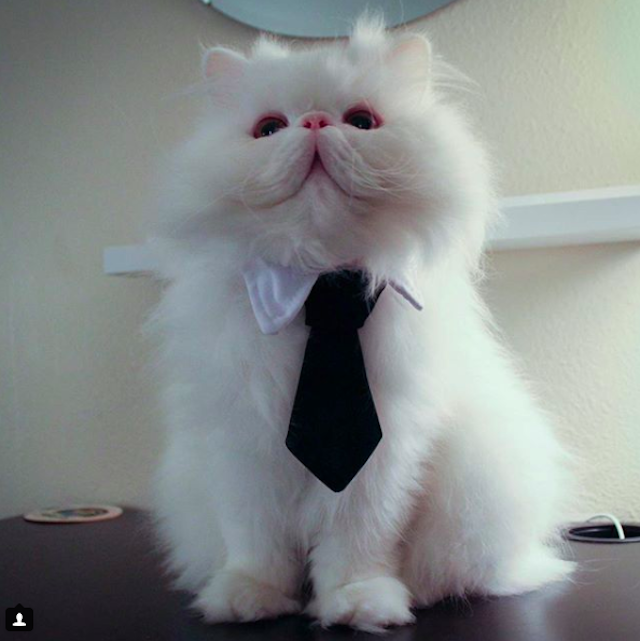 We want to say a special thank you to R.J. LaCount for letting us share this awesome story!