The 2016 fashion runways have featured smoky cat eyes and strong, masculine brows. Girl-power is all the rage this year when it comes to politics, clothes and makeup.
One-year-old calico cat, Lilly is right on trend thanks to some very unique markings. She has thick, bold patches of black framing her gorgeous green eyes.
Her 11,000+ Instagram followers can't decide if she looks more like supermodel, Cara Delevingne…
or comedy actor, Eugene Levy…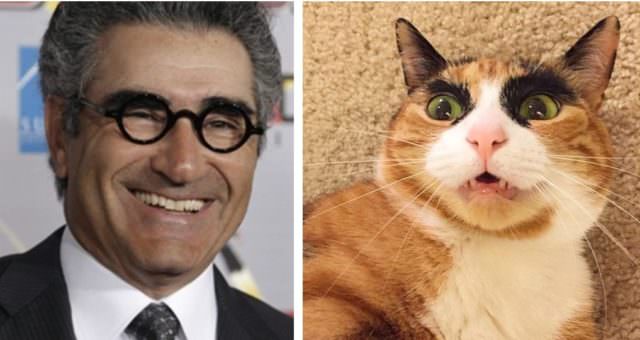 Either way, Lilly is certainly one remarkable looking kitty!
Lilly's nickname is Crazy Eyes… for obvious reasons.
Her striking brows can sometimes make her look angry, but her mom assures she is a sweetie at heart.
She certainly has her wild side just like every healthy young cat.
In fact, her mom recently had to perform emergency surgery on her favorite stuffed robot after Lilly chewed its head off!
But Lilly is really just your average house cat who happens to have some exceptional kitty genetics!
Want to see more of Lilly Crazy Eyes? Join her on Instagram!
H/T to BoredPanda