It's no secret that we all love giving our cats treats. Not only does it spice up their lives in terms of food, it's a great form of affection. But there are many cats that don't need the extra calories. Whether you've got an obese cat trying to lose weight or struggle to keep your cat at a healthy weight even on a diet, treats can certainly be a big problem. So if you're looking for something safe and healthy to give your kitty, check out this list of low-calorie treats below.
#1 – Zuke's Cat Natural Purrz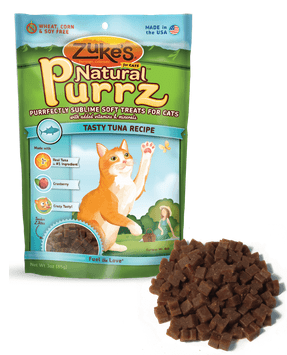 Zuke's Cat Natural Purrz are packed full of high-quality ingredients that your cat is sure to love. With 2.5 calories or below per treat, they're a safe and healthy way to treat your kitty no matter their weight condition.
Click page 2 below for the next treat!